Macbeth - Director's Cut
William Shakespeare
Volcano Theatre Company
York Theatre Royal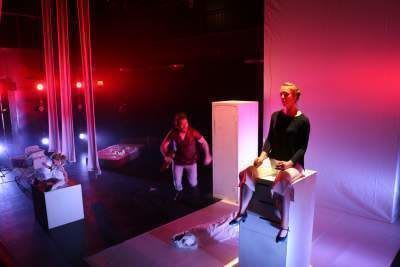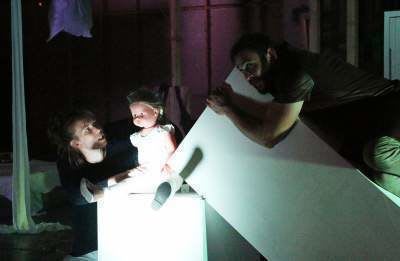 When a filmmaker releases a director's cut, the work in question usually ends up being longer than the original; Francis Ford Coppola's Apocalypse Now Redux (2001) is a prime example. In the case of Macbeth – Director's Cut, Volcano Theatre Company delivers a brutally truncated version of Shakespeare's play that preserves the central plot of the original text but little else.
Following a prophecy from three witches that he will become King of Scotland, Macbeth murders Duncan in order to usurp his throne. He is bullied and cajoled into committing this despicable act by his monstrously ambitious wife. Once the crime has been committed, the two characters are inextricably drawn into a downward spiral of murder and insanity.
It has been 17 years since Volcano premièred its radical interpretation of "the Scottish Play", in which Lord and Lady Macbeth were reimagined as serial killers akin to Fred and Rosemary West. This provocative adaptation—with its sexually-charged choreography, strobe lighting and thrash-metal soundtrack—polarised critics and audiences alike. According to Fern Smith, a founder member of Volcano, one provincial theatre manager was so incensed by the production that he implored the Minister of Culture to withdraw the company's funding.
This revival, directed by Volcano's artistic director Paul Davies, is more restrained than its predecessor. The violent sexuality of the 1999 production is replaced with a more playful absurdism. That said, it still retains an undercurrent of menace.
Like the previous production, Macbeth – Director's Cut is a two-hander in which the various roles are shared between two performers. Mairi Phillips and Alex Harries (best known for his role as DC Ellis in the BBC One drama Hinterland) give energetic and committed performances, rising to the physical challenges of the piece which sees them dancing in a convulsive fashion one moment and running around the stage the next. Phillips makes a commanding Lady Macbeth, capturing the character's iron will and steely determination. Harries is less strong when it comes to speaking Shakespeare's text—his delivery is often flat and he races through some of the play's finest speeches.
Davies's production is punctuated with striking images. The emotional connection between Macbeth and his wife is depicted through impressive moments of choreography which emphasise the characters' physical intimacy. The play's preoccupations with birth, children and infanticide are conveyed through the sinister presence of child-sized dolls.
Davies manages to derive unexpected comedy from Shakespeare's darkest tragedy. In a scene reminiscent of a Laurel and Hardy film, Duncan's two sons flee for their lives by climbing into a box and a filing cabinet in order to hide from their pursuers.
There are, however, various aspects of the production that I consider ill-judged. The famous banquet scene, in which Macbeth sees the ghost of Banquo, results in some self-indulgent audience participation that halts the momentum of the show. To depict the murder of Macduff's son, Alex Harries repeatedly punches a child-sized doll in the chest—the effect is shocking but also preposterous.
Tina's Sorbey's set design is stark, minimalist and multi-functional. Ben Stimpson's lighting is often moody and atmospheric, but there are times when the performers are left stranded in darknesss.
Macbeth is one of Shakespeare's most popular and oft-performed plays, so I applaud Volcano's attempt to breathe new life into the text by adopting such a bold and adventurous approach. However, this production is extremely uneven, and for every pleasing moment there is one that frustrates.
Reviewer: James Ballands