Macbeth
William Shakespeare
Chichester Festival
Festival Theatre, Chichester
–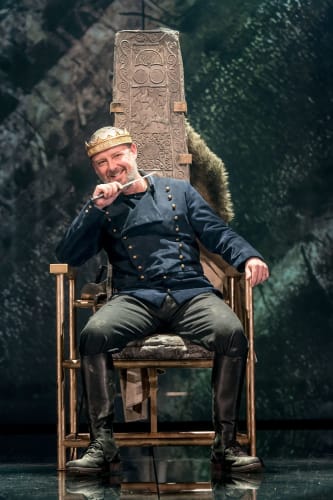 Macbeth is not usually considered a love story, yet it is love (together with ambition) which drives the tale and is the cause for all the horrific and brutal murders which are to come. Encouraged by the predictions of the the three witches, Macbeth expects to become king and his wife, Lady Macbeth, is determined to see her lover achieve his dream at any cost. It is she who persuades the reluctant man to kill the King and from then there is no turning back.
Despite being a warrior returning triumphant from the battlefield, John Simm plays Macbeth in understated and thoughtful mode considering the witches' words and wondering if it could be true. Sadly, for a lot of the first act I found difficult to hear every word although I could appreciate the rhythm and the feeling of the dialogue. Whether it was background sounds intruding or the constant fidgeting of a man in front of me I cannot say, but this was not gripping me at all. In spite of the murder of King Duncan and his sleeping guards, there was nothing to shock and nothing to get excited about. Even the pair with heavily bloodstained hands was not unexpected, and I felt no indication of the mad, passionate love which should exist between the two; however move on to act 2 and the play comes alive and also seems much clearer.
With Macbeth now the King, Simm really demonstrates his complete command of the role, contrasting his earlier quietly thoughtful delivery to one of confidence and bonhomie as he hosts a banquet for the nobility sure that he is invincible, until the face of the murdered Banquo appears accusingly before him and he falls apart into a state of mind which has his guests rapidly leaving the table. Later, and after his wife's death, his "Tomorrow and tomorrow and tomorrow" speech is moving and heartfelt.
Dervla Kirwan's performance is equally and beautifully contrasted from the competent, ruthless wife persuading her husband to murder to the sleepwalking scene when madness takes over and she thinks her hands are still covered with blood. Excellently portrayed!
The whole is played out on Simon Daw's vast, empty set with reflecting mirrors and glass floor, a large video screen and a circle of lights above which change angle to focus the action and it all works beautifully. The most actual 'action' is the fierce sword fight between Macbeth and Macduff and especially the three witches who spend a lot of their time running in wide circles.
Michael Balogun is Macduff, superb and heartrending when hearing that his wife and children have been murdered, and Beatriz Romilly is a splendid Malcolm moving from boyishness and fear to confident manhood, every word considered and delivered clear as a bell.
Harry Peacock has the role of the porter, the one period of light relief, and does it so well that it even brings a 'laugh out loud' moment.
Paul Miller's Macbeth is very thoughtful and well considered and rises to the heights due to some superb acting.
Reviewer: Sheila Connor