Macbeth
William Shakespeare
Folger Theatre and Two River Theatre Company
Folger Library
–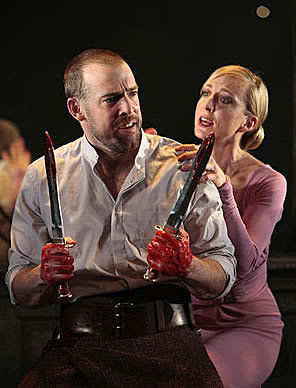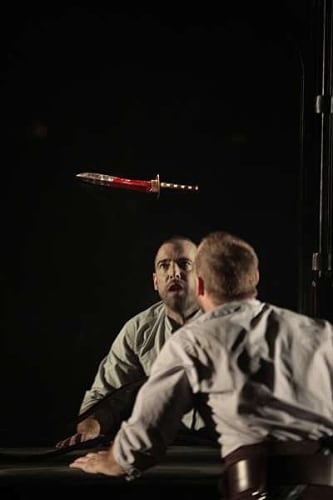 Apart from Broadway musicals, student productions on the Edinburgh fringe and the occasional visit from companies such as the Wooster Group and Steppenwolf, we get little opportunity to see American productions in Britain so for those of us who are not jet-setters across the Atlantic, performances put online during lockdown give us a chance to sample what is done on the other side of the Atlantic.
This is a co-production between the Folger Theatre in Washington DC and New Jersey based Two River Theatre Company whose success saw them issue this DVD version, now online for free.
It is directed by Teller (of the magician duo Penn and Teller) and Aaron Posner, Artistic Director of Two River when the production was mounted in 2008. Its poster advertised it as "A Horror Show" with "Magic designed by Teller" but, though it is certainly very gory, its magical effects seem well within usual theatre methods and it delivers a straightforward, workmanlike version of Macbeth free of directorial gimmicks apart from starting with a joke followed by a fight.
From the blood on the blade of the first encounter, the gore keeps increasing to a literal bloodbath and, though it's a production that's happy to play moments for comedy and takes the Porter's comic musing out into the audience, this gore doesn't get giggles, it really is shocking.
The text has been quite heavily cut and the production moves very quickly with some scenes played overlapping. It is clearly spoken too, with most of the cast taking the verse in their stride, though the pace slows down almost to a halt in the "England" scene.
Ian Merrill Peakes's Macbeth starts off very much the nice guy pushed into murder by an ambitious wife while Kate Eastwood Norris gives Lady Macbeth a rather self-conscious delivery that suggests you shouldn't trust her an inch. This Macbeth seems almost involuntarily to become steeped in blood and then Peakes marks his lack of confidence at each stage of his crack-up but when his wife loses it, it is sudden and overwhelming.
There is strong support from Paul Morella's Banquo and Cody Nickell's Macduff and the final fight between Macbeth and Macduff (staged by Dale Anthony Girard) looks really dangerous. Steeped in blood it may be, but this is much more than "a horror show".
Reviewer: Howard Loxton