Macbeth
William Shakespeare
Guildford Shakespeare Company
Holy Trinity Church, Guildford
–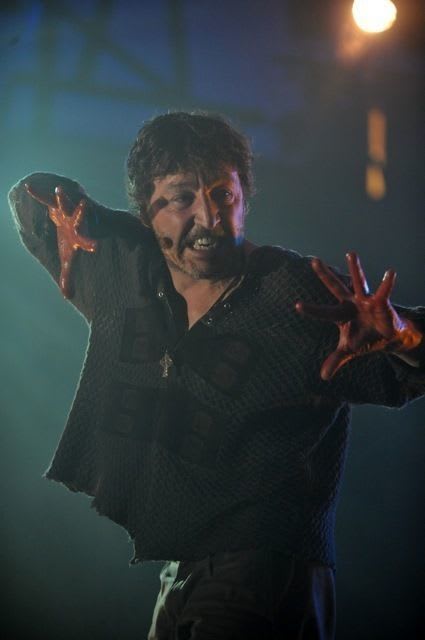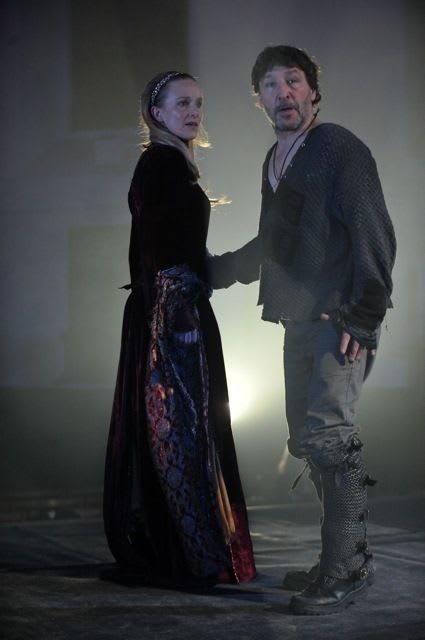 The Guildford Shakespeare Company, now beginning its seventh season, continues to provide productions which not only equal, but often surpass, many West End shows.
Macbeth is no exception and this site-specific company has used the sanctuary of Holy Trinity's 18th century church to the full, not only on the raised four-sided stage, but behind, around and even above the audience encompassing them in the action, with huge, wooden, randomly-slatted structures around the walls giving a feeling of menace and providing a vague concealment for characters who come and go almost unseen.
Macbeth, Shakespeare's most murderous play, also brings in the supernatural as the three weird sister begin their prophesies, and it seems a little incongruous to perform it in a church, so the rector, Robert Cotton, was asked his opinion. "Macbeth is a profoundly spiritual and moral play." he says, "we are forced to see through the unfolding drama the consequences of our actions... able to choose light rather than darkness".
Macbeth and his wife make the wrong choice—and it does them no good at all.
Director Caroline Devlin (with three previous and very successful GSC plays to her credit) has an exceptionally talented and inventive creative team at her side. Declan Randall's amazing lighting designs combine with Matt Eaton's sound effects to create an atmosphere of tension, apprehension and suspense, and also an eerie unreality as swirling lights seem to cause the whole room to spin, and there are surprises at every turn.
The sight of the cross above the altar startlingly lit blood red at the moment of the King's murder is a shock, and the witches' prophesy is fulfilled with the approach of Birnam Woods which was something I would have thought unachievable on an open stage with the audience almost all around, but it is a sight to behold and so brilliantly presented that that alone would make the play worth seeing, although there is very much more than that.
Apart from the text, the three weird sisters (Hayley Doherty, Ben Ashton and Matt Pinches) owe a lot of their performance to movement director Vanessa Cook as they weave and entwine around each other in sinuous dance, and the fight scenes are, as usual, particularly well executed with Philip d'Orleans in charge of their training—frighteningly realistic, and very bloody.
The story of course is well known and strong in content, and as far as the actors are concerned I can't fault any one of them and am full of admiration for their enthusiasm and energy as, in the fast-moving two hours of the show, they are constantly on the go, rushing up and down the steps to the stage and with costume changes to contend with too.
Just to pick out one or two, you can almost see Macbeth's mind working in Tom McGovern's interpretation, from the astonishment at the sisters' predictions to planning who to remove on his way to the top and his increasingly paranoiac determination to get there. His is a loving marriage and the "tomorrow and tomorrow" soliloquy is movingly and thoughtfully told, after receiving news of his wife's death as if it was inevitable.
Lady Macbeth is a very impressive Johanne Murdock, appearing so pure and innocent and looking at the blood on her hands as if she couldn't understand how it got there, yet at the same time her mind is furiously working to protect her husband from blame—as well she might having encouraged him in the first place.
Banquo (Noel White), after his grisly death, doesn't quite make it to the next world and appears like a zombie clomping about with a frighteningly sinister grin and there is a little light relief from Robert Maskell's drunken Seyton, while Morgan Philpott's Macduff is broken-hearted at news of the death of all his family, but his vengeance in the final fight scene brings Macbeth to the last of his tomorrows, all his sound and fury signifying nothing.
Reviewer: Sheila Connor