Macbeth: Leïla and Ben – A Bloody History
Lotfi Achour, Anissa Daoud and Jawhar Basti; based on Shakespeare's Macbeth
An Artistes, Producteurs, Associés Production, commissioned by the Royal Shakespeare Company for the World Shakespeare Festival, part of the London 2012 Festival
Northern Stage, Newcastle
–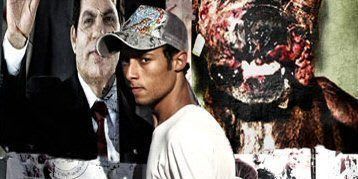 An important distinction first of all: Macbeth: Leïla and Ben—A Bloody History is not a version of Macbeth but is based on it. It uses elements of the plot and bits of the text—and the "feel" of the original—but actually tells the story of Ben Ali and his wife Leïla Trabelsi who took power away from Bourgiba, president of Tunisia for thirty years, and was himself overthrown and fled to Saudi Arabia in the Tunisian revolution, the start of the Arab Spring, on 14th January, 2011.
The producers APA—and, indeed, a character in the play—say that the similarities between Shakespeare's play and the leaders of the Arab world have been obvious for centuries, to the extent that "we have even wondered whether Shakespeare had Arab roots."
The piece is a mixture of text (in Arabic) and mise en scène, live original music (by Jawhar Basti), some superb puppetry and a considerable amount of "talking head" video footage (in Arabic, French and Italian) in which the speakers speak about Arab and Islamic society as well as the history of the Tunisian revolution and its effects.
It is surtitled throughout but it has to be said that the on-screen text is not always clear; too much of it runs along the top of the screen above the talking heads and sometime changes too quickly to be taken in.
The performances are powerful, both the spoken text and the songs are delivered with great passion and energy and frankly don't need the distraction of the surtitles, and the images created on the stage are hugely effective, from the frighteningly funny torture scene at the beginning to the horrific final image of Ben and Leïla.
The puppetry is also very effective: the "Banquo's ghost" scene, in particular, is riveting—although it wasn't Banquo but Duncan (i.e. Bourgiba).
The weakness, for me, was that there was far too much video footage. Even if the surtitles had been clear, it would have still broken the mood and stopped the power and energy of what was happening on stage, which then had to be revived by the actors. There were moments when our reaction to what was happening on stage was "Wow!" and then we had to come out of the moment in which we had been so completely caught up and refocus, losing the excitement / involvement of the previous scene and going into listening rather than reacting mode.
Losing much of that footage would give the piece much more impact and power and make it much more accessible—and, frankly, meaningful—to non-Arabic speakers.
Reviewer: Peter Lathan