Macbeth
William Shakespeare
Little Angel Theatre
–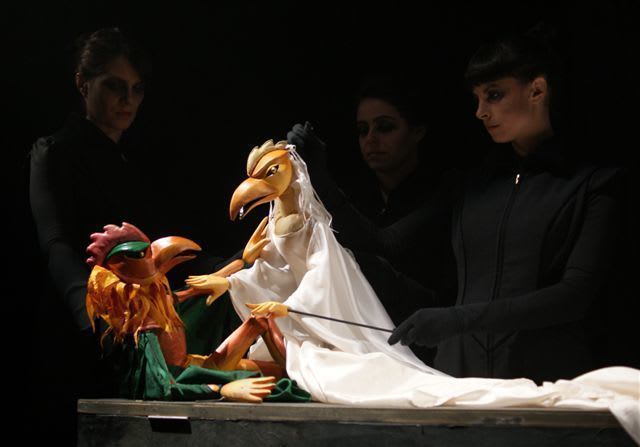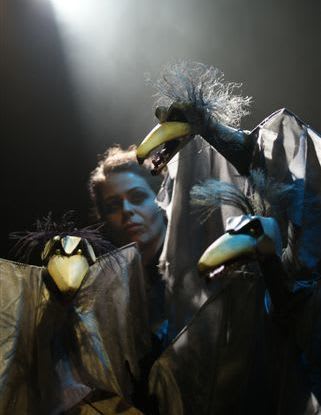 This startlingly original puppet version of Macbeth is Peter Glanville's final production as Artistic Director at the Little Angel before taking up a new post as Artistic Director of Polka Theatre next month.
It is a fitting finale to his eight years with the company which have including Shakespeare collaborations with the RSC on puppet presentations of Venus and Adonis and The Tempest. It is a centrepiece of this year's Suspense Festival, the biennial celebration of puppetry for adult audiences that Glanville established which now presents work by 25 companies in 12 venues across London plus talks, screenings, workshops and masterclasses.
Glanville has adapted Shakespeare's text to give a clear-cut storyline that omits some lesser characters and cuts the running time to about 80 minutes. He and puppet designer Lyndie Wright seem to have taken their inspiration from Macbeth's description of the crow winging to the rooky wood "while nights black agents to their preys do rouse" and Macduff's reference to his children as his "little chicks and to "hell-kite" Macbeth. The surprising concept of this production is to make this an avian version of the Scottish play.
It is a bold move that comes off, established from the start by a witches' coven of carrion crows alighting on the dead and dying on the battlefield where Macbeth has been victorious. As they tear pieces from the corpses, a messenger reports Macbeth's victory to King Duncan.
The King is a formal, gold-chained white swan, with poise and gravitas, his sons near-adult swans. The other principals, though bird-headed, are clothed (by Keith Frederick) and have more human-looking limbs: Macbeth, Banquo and Macduff in tunics, cloaks and battle ready, Lady Macbeth and Lady Macduff in long gowns. Lesser characters: the messengers, servants, soldiers and underlings are all birds without human attributes.
Peter O'Rouke's sets consists of screens and moveable platforms that provide a variety of levels that can suggest landscape or battlements and can provide emphatic framing while music, composed by James Hesford, and David Duffy's lighting add greatly to the atmosphere and tension.
It is a very straightforward reading of the play which makes Macbeth a man of honour corrupted by ambition and the witches' predictions and urged on by his ruthless wife, both haunted by guilt.
The dialogue is not delivered by the puppeteers but pre-recorded by a cast that includes Nathaniel Parker as Macbeth and Steven Maddocks as Banquo. Sometimes, when the puppets are conducting a dialogue from opposite sides of the stage, there is a mismatch with a very intimate vocal delivery but the verse is well handled.
There is a rich and sonorous performance from Donald Sumpter as Duncan (this is no quavering old man, whatever Lady Macbeth may think), Lady Macbeth's sleepwalking scene is particularly effective and Macbeth's speech after her death is movingly delivered if truncated. As the play draws to a close there is a formalised inevitability about the approach of a skeletal Birnam Wood and the concept for the final duel in a flurry of feathers is a real coup de theatre.
Just three expert puppeteers, Claire Harvey, Lori Hopkins and Lowri James, operate all the characters. They are visible throughout but their skill ensures that it is the puppet characters whom you watch, not themselves.
This production is not recommended for the under-twelves—it is aimed at adults. There are some grisly moments but a precocious young Shakespeare fan will Iove it. I know I would have done when I was a youngster.
Reviewer: Howard Loxton