Macbeth
Giuseppe Verdi, libretto by Francesco Maria Pave and Andrea Maffei
Met Opera on Demand
Metropolitan Opera House, New York
From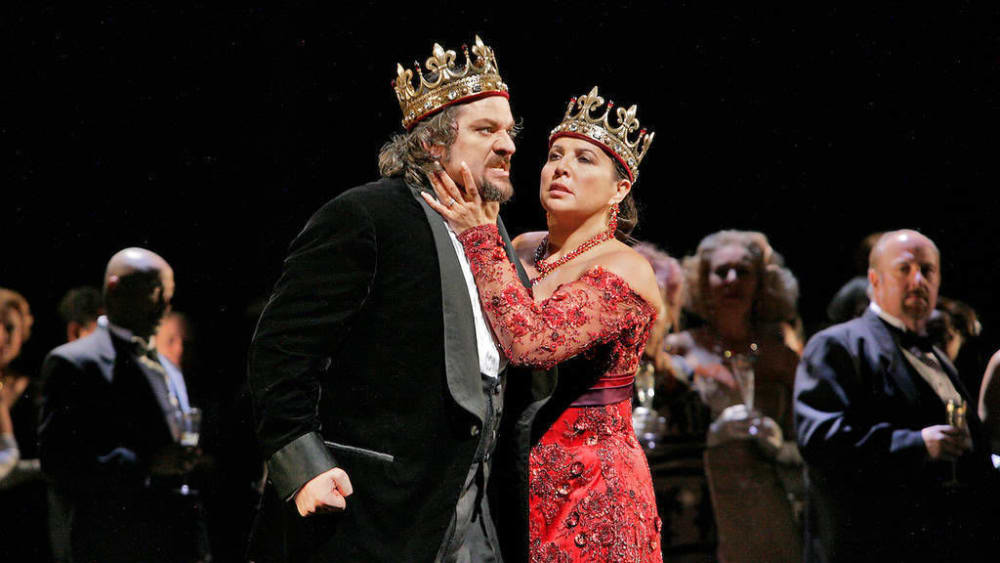 Verdi's Macbeth had a hugely successful première in Florence in 1847. He took 38 curtain calls. Of the ten operas he had written so far, this, he said, was his dearest. He was 34 years old and Shakespeare had been his favourite poet since he was a child. The libretto comes straight out of the play, often word for word.
Determined to raise the standard of opera productions, Verdi's rehearsals were intensive and he drove his singers hard. He wanted them to study the dramatic situation and the words and to attempt "to serve poet before the composer."
This is, no doubt, the reason why The Met in 2008 decided to invite the former artistic director of The Royal Shakespeare Company, Adrian Noble, to direct Macbeth; just as they had invited the founder of the RSC, Peter Hall, to direct an earlier production.
Noble's production, which updates the action from 1050 to 1950, is disappointing; but it does have two major pluses in its favour: Maria Guleghina, a formidable singer and a striking physical presence, to play Lady Macbeth and James Levine to conduct.
Guleghina is discovered in bed. Noble then has her standing on the bed and rolling all over the floor before leaping back on to the bed. Her ecstatic aria epitomises the ecstasy of power. Lady Macbeth is far more motivated, far more ambitious than her husband. In every scene they share, it is she who makes all the decisions and he just tags along.
Noble also gives Guleghina an extraordinary entrance for the sleepwalking scene. He has her barefoot and walking on chairs which are placed by the witches one after another to form a catwalk. There is no candle, only a lamp swinging above her head. Guleghina, dishevelled, her nightdress soiled, looks quite mad. She washes her hands in snow.
Željko Lučić isn't completely sidelined but his Macbeth come across as a weary, middle-aged man who knows he is born to lose and has already lost it. The way he wears the crown makes him look silly. Lučić has a great aria of regret when he is all alone at the end.
Verdi was a leading figure of the Risurgimento, the 19th century movement for Italy's reunification that culminated in the establishment of a single Kingdom of Italy in 1861. It was because of his compassion for people and because he always knew musically how to rouse and rally a crowd to action that the Italians revered him and loved his operas.
Dramatically, the most effective scene is the discovery of Duncan's murder. The exciting ensemble, which follows and ends with Lady Macbeth fainting, is a prefect 19th century melodramatic curtain for act 1.
Other high spots are the arias sung by John Relyea and Dimiti Pittas in their roles as Nanquo and Macduff. Banquo fears he will be murdered. Macduff reacts to the news that his wife and children have been murdered.
There is a rare moment of charm when the street band plays a jolly tune to welcome Duncan to the castle. The funniest thing is the ridiculous number of assassins who turn up to kill Banquo—practically the whole chorus it would seem.
There are three witches in Shakespeare. Verdi wanted 18. Adrian Noble has masses and masses of bag ladies in print dresses and white socks, carrying handbags. They are so dotty as to be comic; but quite frightening when they advance on the audience as if they were inmates of the Asylum of Charenton and about to perform The Persecution and Assassination of Macbeth Under the Direction of the Marquis de Sade.
As for the spirits which are raised to tell Macbeth his destiny, they are part Hieronymus Bosch, part Circle de Soleil, and so inaudible you have to read the subtitles.
There are a number of ways of tapping into this opera and others at will. The Met Opera On Demand service offers annual ($149.99) and monthly ($14.99) subscriptions as well as a one-off payment ($4.99) for those who have limited time or only want to watch the occasional opera.
Reviewer: Robert Tanitch