Macbeth
Abridged from Shakespeare by Gareth McConaghie and Stuart Harvey
Youth Music Theatre UK in association with Lyric Theatre Belfast
New Town Theatre
–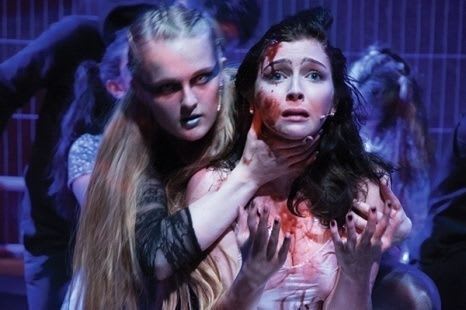 Youth Music Theatre UK's second show at the Fringe, in association with the Lyric Theatre Belfast, is a vibrant modern dress interpretation of this abridged version of Shakespeare's Macbeth.
It is set in the future in a dystopian world where the digital world has come to a grinding halt.
The stage set consists of metal industrial fences with the cast on stage behind them creating an imposing tableau. There is excellent use of projection and a bank of television screens that reflect the action on stage and suggest further images.
This was going to be a very different version of Macbeth, in this story of greed, treachery, political ambition, regicide and cold-blooded murder.
The actors burst onto the stage with frenetic energy performing a skilful opening acrobatic movement sequence that sets the scene.
The music is played live with the band on either side of the stage and also musicians who weave in and out of the action. It is a varied and vibrant score by Garth McConaghie and the company sing with gusto. The harmonies are particularly impressive.
The choreography by Rachel Birch-Lawson is breathtaking and the large cast of more than 40 are exceedingly well disciplined and committed. The fight sequences are exhausting to watch.
The witches are a menacing chorus of 9 as they cast their spells on the, "Thane of Cawdor who will be king thereafter." The use of skipping ropes to manoeuvre the characters around the stage emphasises the control they have over them.
As Macbeth, Sam Garioch gives a powerful performance with a strong stage presence and voice as does Rob Peacock as a splendid Banquo.
Lady Macbeth (Molly Coffey) creates a tortured character in the "out, out damn spot" scene.
The ensemble work is particularly striking and a strength in this spirited and dynamic production skilfully directed by Stuart Harvey.
Reviewer: Robin Strapp