Macbeth on Inchcolm
William Shakespeare
Inchcolm
–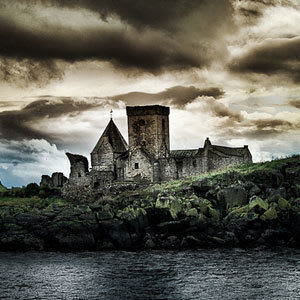 The star of this show is undoubtedly the island. The setting and boat ride there are stunning, with the sun low in the sky lighting the Forth Bridge perfectly. Few other practical man-made structures in the world can look this beautiful. Inchcolm, the island of St Columba, rises out of the Forth with its fortified abbey ruins; you feel yourself drifting back in time. Seals swim around the island; an added bonus.
The production is well organised with grey blankets and kilt pins serving the dual purpose of keeping the audience warm and erasing signs of our modern clothes, blending the audience into the play; later on the audience is given the branches of Birnam Wood too. The audience is shepherded around many different locations by mute, red-gowned stewards, making the most of the Augustinian abbey.
It is, however, a tragedy in more than just the its plot. The production's fatal flaw is its lead actor who is as pathetic as the abbey ruins are grand and monotonous as the island is magical. It is impossible to engage with him as he angrily rushes around wild-eyed and throws away his lines.
Aside from Alexander Forsyth the other actors are, for the most part, well cast. Caroline Ailsa Howitt's Lady Macbeth looks every inch the fierce Celtic queen and her speeches far surpass her husband's. The weird sisters are suitably unhinged and have great outdoor voices as indeed do most of the cast. Giving the weird sisters more stage time works very well, with them appearing silently in the ruins above, adding an even greater mystery to the place.
MacDuff (Robert Sturrock) and Malcolm (Sunny Moodie) both have a strong presence on stage and could handle Shakespeare's lines. Why one of these actors isn't in the title role is a mystery. The rather weak smaller parts though, like the murderers and the cross-dressing young women, do give this away as a student production.
The production cannot be faulted on its choice and use of location. Not only is the island mentioned in the play, there is even some evidence the real Macbeth and his wife Gruoch set up a church there. I do hope this island gets used again in the future, but with less tragic casting.
We have been asked to point out that the Alexander Forsyth mentioned in this review is not the actor of the same name with this entry on Spotlight.
Reviewer: Seth Ewin