Macbeth
William Shakespeare
Royal Exchange Theatre
Royal Exchange Theatre, Manchester
–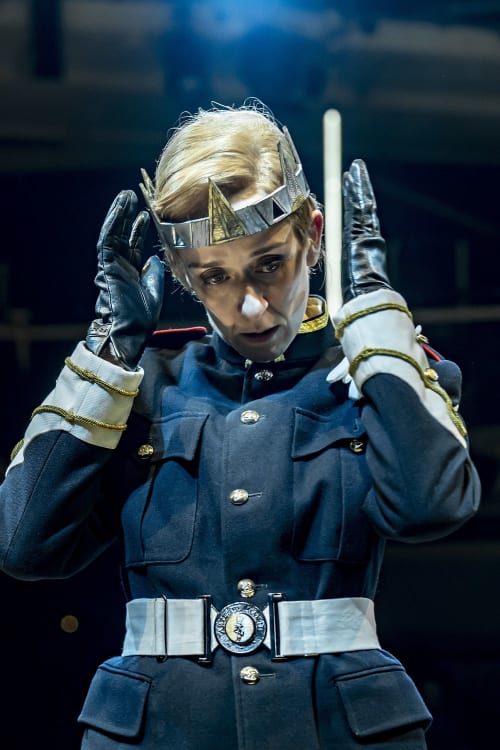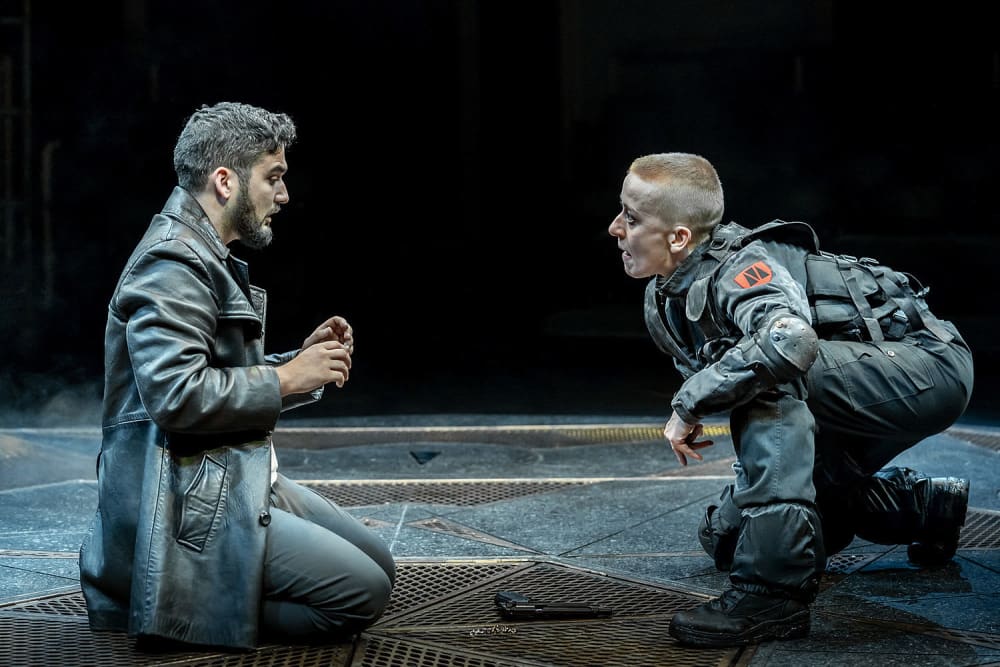 The audience enters the Royal Exchange to rumbling, oppressive sounds of war, utilising the theatre's surround sound facilities well (sound designer Elena Peña) to make it feel like the battle is all around us and closing in. Random, faint flashes of distant explosions (lighting designer Colin Grenfell) add to this effect as soldiers in modern combat gear enter carrying automatic weapons. The opening actions indicate that this will be a brutal, physical, action-packed production of Shakespeare's darkest (in many senses of the word) play.
However, a running time of three hours for Shakespeare's shortest tragedy seems to contradict any suggestion that this will be a fast-moving production (the last version I saw managed to fit both Othello and Macbeth combined into a shorter time), which proves to be the case.
The murderous Thane is played by Lucy Ellinson, but this is not a 'gender-blind' production as the character is referred to as 'she', as is Alexandra Mathis's Queen Duncan. Ony Uhiara is still her Lady Macbeth and they refer to one another as 'wife', placing this firmly in the twenty-first century, but the references to what Macbeth should do to be a man are retained and Lady Macbeth still says she would need to be 'unsexed' in order to carry out what she is asking Macbeth to do. Perhaps they managed to justify the meaning of this in rehearsals, but these are just a few of the many contradictions in this production that are never satisfactorily resolved for an audience (it's always disappointing in Shakespeare when characters talk of fighting with swords and then bring out a small knife, or, worse, a gun—here we get both).
Christopher Haydon's production is certainly packed with ideas and designer Oli Townsend has tried to use every toy in the Royal Exchange's toy box: one of the witches is flown in from the ceiling at the start; there is a permanent pond in the centre of the stage; elaborate pieces of set appear from above and all around. Banquo drives up to a road block set up by his murderers. Macbeth's dinner, before Banquo's ghost appears, is a costume party that begins with a game of musical chairs around a table packed with culinary opulence and features some cleverly designed tricks for Banquo's appearance and disappearance, but it all takes so long with lengthy pauses that there is no sense of danger or urgency—it's just like a slightly dull kids' party magic show.
In fact it's pace that is the killer throughout. Ellinson's Macbeth is intelligent and thoughtful, which would be an interesting take on the text combined with looking at how it may be different for a woman in the same situation, but this isn't really investigated. However, the many long pauses in the speeches make a lot of scenes long and ponderous and obscure the meaning. But then there is much in this production that seems to be more for effect than for meaning.
The witches (Bryony Davies, Nicola May-Taylor and Charlotte Merriam) are played largely for comic effect, holding back the name of Macbeth in the opening verse as though tempting the audience to shout it out and complaining to the sound box when their freaky dancing music is stopped. They also appear as pouty servants in Macbeth's home, suggesting perhaps that they are observing or controlling Macbeth's actions following their initial prediction, but this isn't carried through, and after their last meeting with Macbeth they are never seen again.
The murderers (Adam Karim with Oliver Devoti standing in for injured Kenneth Omole, who sat watching with his crutches on the front row on press night) have the comic incompetence of Disney villains. Rachel Denning as the Porter has a new speech credited to Chris Thorpe that replaces the professions in the original with modern ones as she picks out people in the audience to represent them, but I couldn't make any sense of what point the speech was trying to make.
Paul Hickey is a strong MacDuff who also achieves the best balance between verse speaking and natural speech. Theo Ogundipe is a commanding Banquo whom anyone would want alongside them on the battlefield but with the intelligence to know from early on what Macbeth is up to. Nima Taleghani's Lennox is Macbeth's brutal 'fixer', while Daon Broni's Ross is more conflicted. David Hartley is also convincing as Malcolm, and Ayanda Ndlovu brings a lot of youthful energy to Fleance.
So there are some strong performances, but the production as a whole is unfocused, lacking in overall coherence and slow-moving. There are some really interesting ideas for staging or interpreting this play which aren't followed through or just not fully implemented, and others that seem to be more for their immediate effect than for any contribution to the meaning of the play.
Reviewer: David Chadderton