Macbeth
William Shakespeare
Royal Shakespeare Company
Royal Shakespeare Theatre, Stratford-upon-Avon
–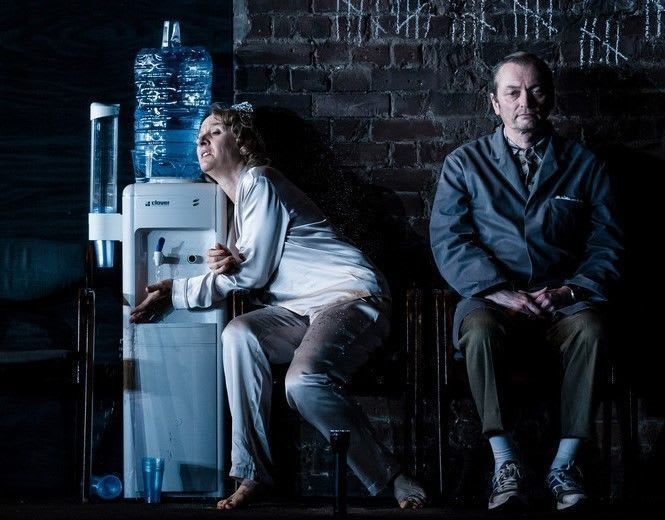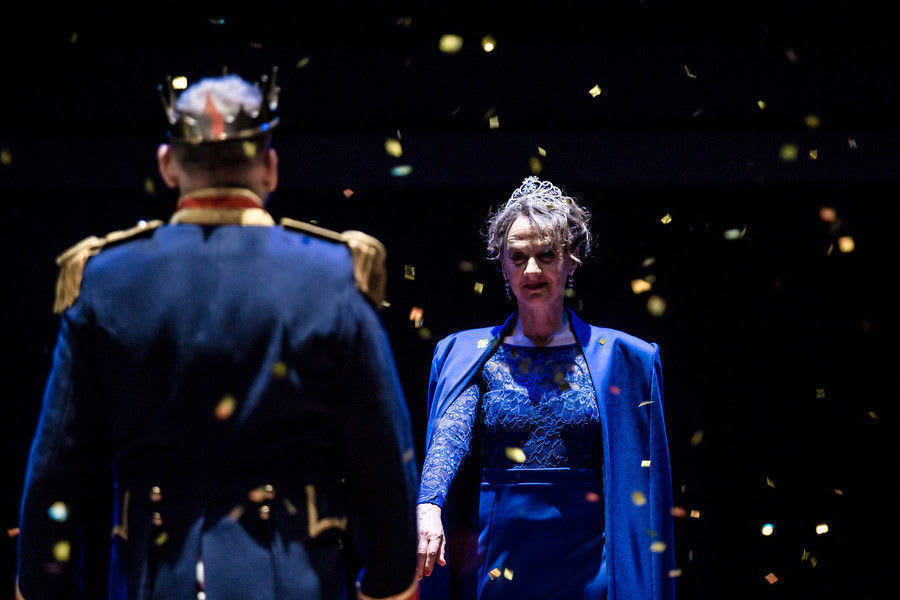 It's an odd state of affairs that the character that sticks in the mind after this quirky, inventive, uneven production is not Christopher Eccleston's Macbeth, nor even Niamh Cusack's Lady Macbeth, but the greatly expanded role of the humble porter.
The mesmerising Michael Hodgson hovers around the stage throughout, calmly chalking up the dead and innocent victims until they cover a wall, and like some pasty-faced clown impassively vacuuming the castle carpet as if carnage were merely the furniture.
Director Polly Findlay has turned the simple servant, grumbling about late-comers to castle Macbeth, into a cynical observer on the entire history, in all its tragic inevitability.
Findlay's message can be a little heavy-handed at times — a clock ticks down over two hours to Macbeth's immaculately-timed death (voluntary — that's fate for you), while surtitles IN CAPITALS proclaim (in case the point eluded you) such truisms as "what's done cannot be undone."
When not being poked in the eyes with a stick, however, there's a host of creative ideas to intrigue: Banquo's murderers are themselves murdered and there's the briefest hint that Lady Macbeth has murdered her own child, which possibly explains the fact that the three witches — real or illusory — are played by doll-clutching children in polka-dot pyjamas. Then at the end, by unspoken gesture, Banquo's son Fleance indicates that the slaughter will go on when he becomes king.
It's effective too that there is no dagger that Macbeth seems to see before him, and no Banquo either when his ghost first appears at the banquet, so that the thane is seen hurling bread rolls at an empty chair.
And what of this Macbeth? Eccleston, who has only once before appeared in a major Shakespearean role, had complained he was never since offered such parts because of his Northern accent, and wrote to the RSC asking to play the thane.
Bold move. Aptly enough, his Macbeth ambitiously pushes himself for the kingship when Duncan is still alive enough to consider the options, and he otherwise appears as the rough, bloody soldier, none too concerned with post-battle bathing. Surprisingly, some way into the run, I caught a rather faltering performance, but one that nevertheless held the attention throughout.
Cusack seemed at first just too nice a Lady Macbeth, receiving the news of hubby's likely kingship with all the passion of one having just won a free manicure. Yet this very reaction came to make sense, a calculation eventually raising a ruthlessness in one suddenly raised from comfortable ordinariness to visions of boundless opportunity.
I could feel the knowing looks of the porter.
Macbeth will transfer to the London Barbican from 15 October to 18 January 2019.
Reviewer: Colin Davison