Macbeth
William Shakespeare, retold by Andrew Quick, Pete Brooks and Simon Wainwright
imitating the dog
The Dukes, Lancaster
–

Listing details and ticket info...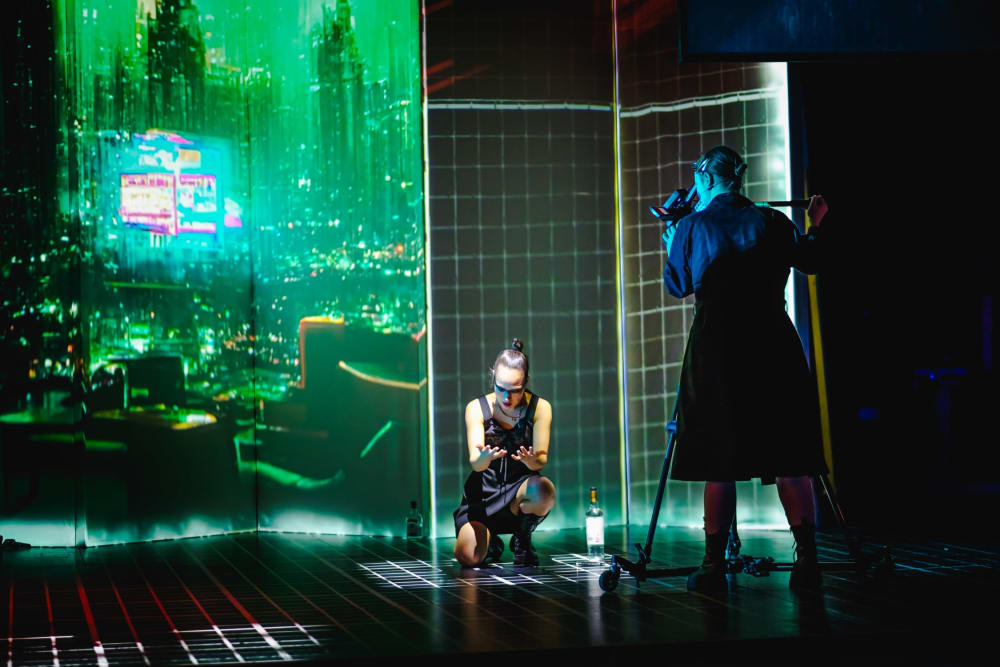 NOT the unmentionable Scottish Play you may recall, but a clever deconstruction remastered before your eyes by digital theatre innovators, imitating the dog.
It's an artificially intelligent rewriting of Shakespeare's story of blood and lust in which the title character is a gun-toting gangsta, his Lady a black-eyed moll, while the three witches become narrators, who become videographers, who become most of the other characters, who mostly become corpses.
Their cameras are used for live close-ups of the central duo, with the images projected onto front of stage screens, whilst a digital backdrop—synchronised with the sound and action—plays out behind them. If that sounds like sensory overload, then you're beginning to get the picture.
Best just to choose your own stage focus and stick with it. The screens in the foreground can prove a distraction since sound travels faster than digitally transmitted light here, and brings a timeslip to the actors' lip-synching.
Then immerse yourself in the experience (ideally in the company of an appreciative teenage matinée audience of Shakespeare scholars) and you're in for a multimedia ride of the Macbeths' home life, set in a modern age.
With the look, feel and sound of a neon-lit Japanese Manga thriller, and nods to Kurosawa's own Macbeth movie Throne of Blood, it is a dizzying performance designed to deliver, and delight, younger audiences... and maybe even rattle Shakespeare purists? The latter will certainly have heard clearer delivery of the text—and without the added profanity.
Benjamin Westerby, in the title role, and Maia Tamrakar (Lady M) are often motionless before the cameras. But it is their haunted stillness that contrasts with whirling witches Laura Atherton, Stefan Chanyaem and Matt Prendergast.
Macbeth marks 25 years of imitating the dog, founded by Lancaster University drama professor Andrew Quick. With fellow artistic directors Pete Brooks and Simon Wainwright, the company irreverently pushes the boundaries of theatre experimentation. And while they may be able to condense this production down to a cast of five, their list of programme credits reads like the end of a cinema film.
Macbeth tours the region, and includes an excursion to Switzerland.
Reviewer: David Upton