Macbeth
William Shakespeare
Filter
The Vaults, London Waterloo
–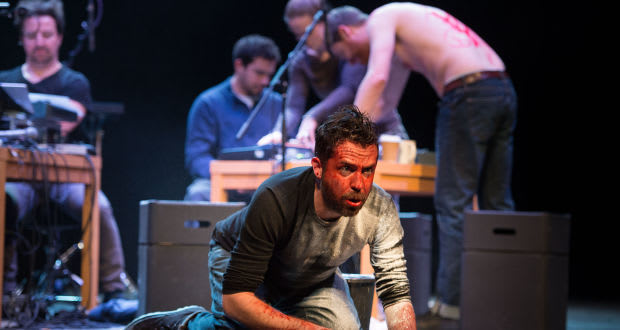 With a set consisting of electronic equipment carefully strewn across the floor and a cast in modern dress walking the stage and checking personal props in full view of the audience, you know you're watching a production by Filter.
Their version of Macbeth is sparse, entirely modern, brooding, playful and, according to the programme notes, an experience in which the audience will be drawn inexorably into the epicentre of the 'heat oppressed brain'.
Whilst Filter is known for distilling Shakespeare, finding the essence of, and pinpointing the heart of the story, it is very difficult to translate this into a written review without revealing their imaginative plot interpretations.
Suffice to say this is a frustrating production that works brilliantly in parts and falls flat in others. The entire show is performed with complete commitment but the multi-rolling is at times confusing and means that other than the Macbeth's there is no real character development or fleshing out. Given that the production focuses in on Macbeth's descent to madness, this is perhaps understandable but doesn't mean that we feel more or less strongly towards the central characters.
There are some fabulous touches, a deranged party game in which Macbeth sees the ghost of Banquo, an inventive and chilling use of a baby monitor, a sequence in which Lady Macbeth draws targets on Duncan's major organs and a speech in which Macbeth literally washes his hands in blood. Yet other moments such as the inclusion of Brodie's notes, whilst humorously executed, jar with the overall pace and feel of the production.
Live music is intrinsic to the show and the otherworldly electronic sounds create an uneasy atmosphere with their discordant tone. This is most effective when looped, such as when the wyrd sisters laugh at Macbeth's questions or when whistles become the birdsong of the wood, filling Macbeth's head and growing in intensity. At times, however, it drowns out speeches and occasionally events conspire so that a train roars overhead meaning both music and the speech are temporarily inaudible.
For fans of Filter, this production contains all of its trademark performance styles; however for those unfamiliar with their work it might be a tough watch. Splitting scenes so that conversations in England and Scotland can interweave gives the play a different sense of emotional intensity, yet unless you are familiar with the source text could become confusing. Performed by a strong and confident ensemble of actors, it is intriguing viewing but doesn't quite hit the mark on this occasion.
Filter, however, is an extremely talented and innovative company so I will be interested to follow the evolution of this production and look forward to discovering its future plans.
Reviewer: Amy Yorston