Macbeth
William Shakespeare
Derby Playhouse
(2005)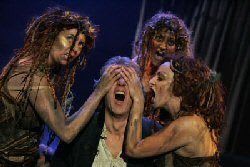 At last! A Derby Playhouse Shakespeare production bereft of the gimmicks which have characterised previous Bard offerings in this theatre. It's one of the most enjoyable pieces of drama the Playhouse has put on for a long time.
Professional Shakespeare productions returned to the Derby stage after a nine-year hiatus when Karen Louise Hebden directed A Midsummer Night's Dream sixteen months ago. A slightly sinister interpretation meant that some of the darker elements of the play were brought out at the expense of the comedy.
Then came Stephen Edwards' baffling Romeo and Juliet, with a huge chrome tanker dominating the stage and detracting from Shakesperae's delightful verse.
Regular Derby theatregoers must have been wondering how many surprises Karen Hebden had in store for Macbeth, bearing in mind that it's such a well-known tragedy because it's performed so regularly. It almost came as a shock that this is a fairly traditional Macbeth which benefits from its simplicity and unpretentiousness.
The only unconventional aspect of Hebden's production is casting 61-year-old Brian Protheroe in the title role instead of opting for the usual younger, dynamic, all-action thane. While Protheroe doesn't look like a warrior, his Macbeth is driven by the realisation that his advancing years mean he has to take decisive action if the witches' prediction is to come true.
Yet Protheroe's Macbeth also shows a touching reluctance to kill Duncan - until Lady Macbeth convinces him to do the deed. And once Macbeth gets the crown on his head, there's a major transformation as he grows increasingly bold and feels his tenure is impregnable.
Right from the start you realise that this Macbeth is vibrant, exciting, bloody and full of suspense.
The witches are suitably dirty, bedraggled, gruesome and demented so that Macbeth's description of them as "secret, black, and midnight hags" doesn't sound out of place.
Aoife McMahon is an excellent choice as Lady Macbeth. Her brash, ambitious exterior seems impenetrable as she steadfastly propels her husband into murdering the king. Her descent into madness is commendable; her "out damned spot" speech is given fresh purpose and delivery.
There are also fine performances from Glenn Carter, last seen on the Playhouse stage in Sondheim's Company and showing he can do straight as well as musical roles; Stephen Finegold as a haunting Banquo; and Craig Purnell, a witty porter who brings out all the humour of the character.
Rosie Alabaster's simple yet functional set allows action to take place on different levels while Philip Gladwell's lighting gives a chilling atmosphere. Thunder, lightning, fire and spurting blood are all interspersed at regular intervals yet they never seem stilted or predictable. And there is a haunting percussive beat courtesy of musical director Martin Allen.
After seeing Romeo and Juliet I appealed for the Playhouse to come back down to earth. They've done that with Macbeth. There's not much wrong with it; it's one that should appeal to traditionalists as well as newcomers to Shakespeare.
"Macbeth" runs until October 22nd
Reviewer: Steve Orme