Macbeth
By William Shakespeare
Icarus Theatre Collective
The Corn Exchange, Newbury, and touring
(2011)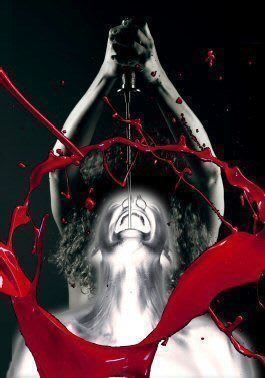 Icarus Theatre Collective's Macbeth is an impressive fluid production that punctuates the play's themes of the supernatural, greed, power, ambition and murder with clarity and adroit direction by Max Lewendel.
Mayou Trikerioti's atmospheric set, consisting of grey monolithic pillars with projected images on the moon and shards of broken red light appearing as the intensity of the drama progresses, is striking and, together with Theo Holloway's dynamic pulsating soundscape, provides the perfect backdrop for this taut dramatic tragedy.
The play explodes into action with a high-powered fight sequence using real swords, axes and spears that superbly captured the intensity of battle (fights directed by Ronin Traynor).
Zachary Holton towers as the affable noble and majestic King Duncan who accepts Macbeth's hospitality little knowing what fate awaits him.
The three witches, clothed in brown cloaks, have predicted the destiny of Macbeth and Banquo as the calamitous inevitability of this tale unfolds.
Joel Gorf plays Macbeth with a sincerity, commitment and belief. All strong and powerful to begin with and then slowly driven to questioning and despair as his quest for his predicted kingship dissolves into tatters. His banquet scene, with a lavish red curtain cleverly providing the table, as he sees the ghost of Banquo, is filled with emotion and his apparent madness is imposing.
Ambitious Lady Macbeth, forcefully played by Sophie Brooke, provokes Macbeth to murder Duncan in a robust powerful scene and eventually descends into madness at the enormity of her dire deed and finally kills herself.
With a cast of only seven some doubling up is necessary and Mathew Bloxham is excellent as Banquo trying to bring some form of sense and reason to the witches' prophecy. As the Porter he brought a sharply observed element of comedy into this poignant scene.
Richard Hay's Malcolm was filled with innocence and sadness at the death of his father and Emma Carter is the blameless Lady Macduff who is butchered by Macbeth's henchmen.
Costa Chard's Macduff smouldered and festered with grief at the news of his family's slaughter before exploding into a violent quest for revenge against Macbeth in a bloodthirsty graphic and vivid ending.
This was a powerful and engrossing production that received enthusiastic applause from the audience and was richly deserved.
"Macbeth" is touring until June 2012
Reviewer: Robin Strapp