Macbeth
William Shakespeare
Leicester Haymarket
(2005)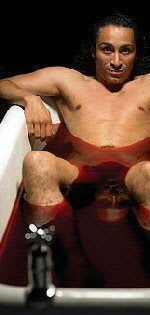 Separated by only 35 miles, two versions of Macbeth are playing simultaneously at East Midlands theatres. But while Karen Hebden's production at Derby Playhouse is fairly traditional, Paul Kerryson's at Leicester Haymarket could hardly be more different.
The audience are led through corridors they don't normally get to see - "something wicked" is painted in blood red on the walls - to the back of the stage. Some perch on benches, others sit cross-legged on the floor. But whichever position you take up, you're packed in and so close that you feel an integral part of the proceedings.
It's a loud, action-packed, youthful, modern-dress production, with copious amounts of blood, fear and hate.
When we first see Macbeth and Banquo they're without their shirts, splattered with blood and drinking Jack Daniels as they celebrate their victory in battle.
Craig Conway is a superb Macbeth, his closely-cropped hair and fearless attitude making him a cross between a football hooligan and a member of the SAS.
He's excellent during the "Macbeth does murder sleep" speech and looks genuinely distraught when he sees Banquo's ghost. He's not the sort of person you'd want to meet in a narrow alley on a dark night - but he meets his match in his wife. Sasha Behar, in a previous existence unstable solicitor Maya Sharma in Coronation Street, is one of the finest Lady Macbeths I've ever seen. She's scheming, persuasive and has evil coming out of every pore; her husband can't resist when she tells him they must take the opportunity to kill the king. She gives the character enough depth, deceipt and deviousness to compensate for the odd occasions when she gabbles her lines.
A friend of mine who was experiencing his first live Shakespeare described it at the interval as "intimately gripping".
The second half is slightly anti-climactic as the audience go into the auditorium. The number of people allowed in means it's a tight squeeze at the back of the stage, but the production loses some of its fascination when you're watching the action at a distance and there are plenty of empty seats either side of you. Presumably Kerryson wanted the audience to be detached as Macbeth becomes increasingly heinous.
However, there are many enjoyable moments. Kate Unwin's design has most of the characters in black and there are even black sheets on Lady Macbeth's bed. The only differences are Duncan's gold on his costume to denote his sovereignty, Macbeth with a red dressing gown after he's killed the king and his wife wearing a gorgeous red gown when she becomes queen.
Tim Routledge's in-your-face lighting heightens the evil and despair in the play while Ben Harrison's sound is loud and mysterious.
Kerryson has altered parts of the play which I must admit had me baffled. The three witches are all men which seemed wrong even though Banquo says "you should be women, and yet your beards forbid me to interpret that you are so." Lady Macduff is also a man which sits even more strangely with the text. And Lady Macbeth's gentlewoman has also had a sex change.
John Lloyd Fillingham, a spirited Banquo, later turns up as a doctor - and because of the dark costumes looks exactly the same. This must have been confusing for younger members of the audience who were new to the play.
There isn't a big battle to lift the tension before the confrontation between Macbeth and Macduff, so the final scene doesn't appear to me to have enough impact.
On the whole, though, it's a production worth experiencing for its devilishly daring and unconventional approach which will give you a thrilling and possibly chilling evening's entertainment.
"Macbeth" runs until October 28th
Reviewer: Steve Orme