Mack and Mabel
Music and Lyrics by Jerry Herman, Book by Michael Stewart
Yvonne Arnaud Theatre, Guildford
(2006)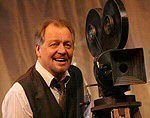 Following their phenomenally successful Sweeney Todd which was also conceived at the wonderful little Watermill Theatre, director John Doyle and musical supervisor Sarah Travis - with their incredibly talented ensemble of energetic and hard-working actor/musicians - now bring the true love story of Mack Sennett and Mabel Normand to the stage, a story which sadly ends in tragedy and regret, but superbly underscored by Jerry Herman's glorious music, and comprising such songs as the optimistic and happy 'Look What Happened to Mabel', the hauntingly beautiful 'I Won't Send Roses', and the tear-inducing 'Time Heals Everything' sung by Mabel while snorting cocaine. Music, however, which will also always remind me of Torville and Dean's 'perfect 6' Olympic ice dance performance in 1984..
Sennett was a film maker at the time of silent movies (famously the creator of the Keystone Kops) and directed the only way he knew how, by counting – " One – pick up plate, Two – walk across floor, Three – smash plate on actor's head", but talkies were about to erupt onto the scene (or screen) and direction needed to be more subtle ..he was fighting a losing battle to keep his style of comedy acceptable to a paying public.
Mark Bailey's set is a small film studio set-up ..cameras, cables, gantries and lights litter the stage, and among this the company manage to perform to perfection – each one encumbered by a musical instrument which they all play with expertise, even in one case, tap-dancing at the same time – and doing double (or treble) duty as stage hands, moving scenery and sweeping litter from the floor – all in the context of the story.
David Soul is, I would say, the definitive Sennett, a man older and wiser, looking back on his past life with pleasure at the highlights, but with deep regret for the mistakes he made – a performance which touches the heart, not to mention the soul. He is the only one of the cast who doesn't play an instrument – although his co-star Mabel's claim to 'percussion' only involved a brief tap on a cymbal. Mabel is played by the very versatile Janie Dee, an actress who can switch from the delightfully silly musical 'My one and Only' to Chekhov's 'Three Sisters' and give an equally superb performance in each.
Apart from the two lead characters, this is a true ensemble performance, but I have to mention Richard Brightiff, who plays rival film director William Desmond Taylor. This is another very versatile talented performer, who always reminds me of Danny Kaye – a part he recently played in the West End, receiving rave reviews. (So sorry I missed it!)
To sum up a slim story in a show which has previously been tried and not succeeded too well, in spite of the wonderful music. This time around the director has rejected the big flashy Broadway musical style, making it much more realistic, and in the small and intimate setting of the Watermill (and also the Yvonne Arnaud stage at Guildford) it works – and works exceptionally well!
Well worth seeing and enjoying, now on tour and only Eastbourne (Brightiff's home town) and Nottingham before it hits the big city. I look forward to seeing it again at the Criterion in London.
David Chadderton reviewed this production at the Palace Theatre, Manchester
Reviewer: Sheila Connor