The Woods
Devised and created by the Jane Packman Company
mac, Birmingham
(2011)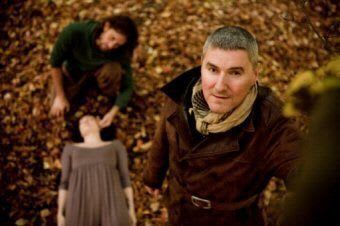 A walk in the woods might not seem that appealing on a cold dark February night. Luckily the woods that the Jane Packman Company have created as part of their theatre installation are in the climate controlled interior of mac's Gallery in Birmingham.
The Woods is the Jane Packman Company's second project at mac following on from Treasured last year. Again the Company has attempted to re-imagine the performer/audience relationship and explore theatre outside of its traditional setting.
The Gallery at mac is a cavernous white space but, using large strips of translucent green material, Designer Barney George has created the sense that you're sitting in a clearing surrounded by trees. Lights outside these abstract trees fade and glow throughout the piece giving the impression of the sun through the foliage. Perhaps the most ingenious element of George's design is his use of smell. It is a sense that is surprisingly under-utilised in live performance. Simply by covering the floor in moist bark and leaves George recreates that unmistakable damp woodlands smell within the Gallery.
The experience of the installation is further enhanced by Lewis Gibson's excellent sound design. Atmospheric woodland noises are mixed with evocative original music and the mundane sounds of life alone in an empty flat. Speakers hidden within the set allow sounds to be amplified from different directions to great effect.
The Woods at its most basic level is the story of a man recovering from a break up. It explores hiding as a means of dealing with emotional pain and draws on the metaphor of getting lost in the woods. The scenes of a broken man languishing in his flat are juxtaposed with stories about the lifecycle of the woods. The woods are sustained by death. Dead animals and plant matter provide the nutrients that support new life. Likewise, for us humans, each experience, even the painful ones, allow us to grow emotionally.
The Woods is a simple yet powerful piece of theatre. It leaves you with a smile on your face and a warm feeling inside that can be attributed to more than the hot punch you are served on arrival.
Runs until February 27th
Reviewer: Iain James Finlayson