Madam Butterfly
Puccini
Welsh National Opera
Millennium Centre, Cardiff
–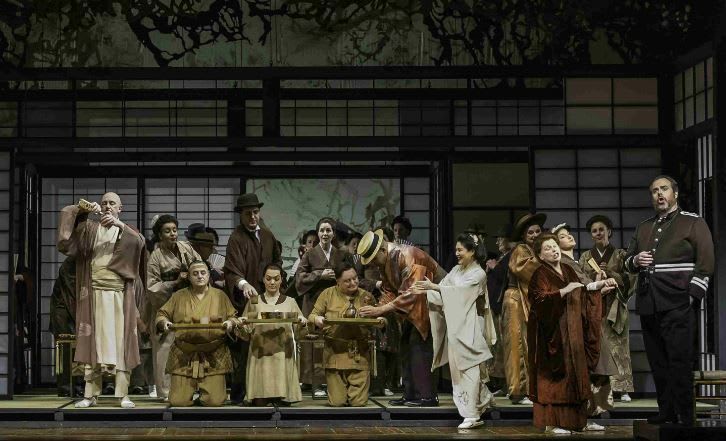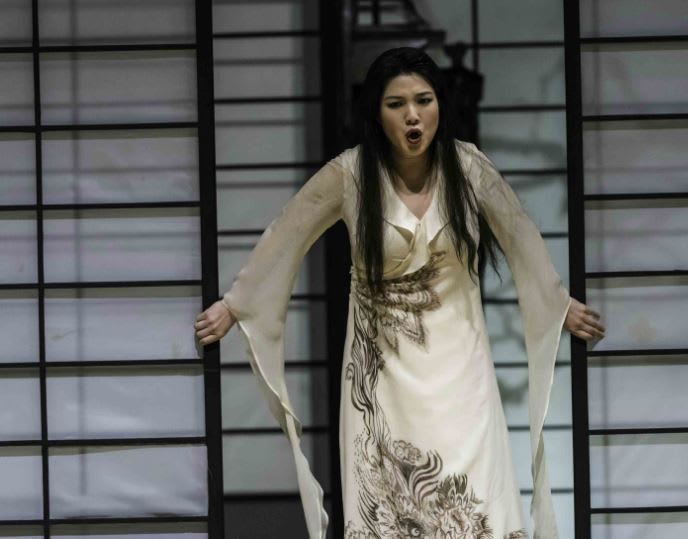 You always know where you are with Puccini.
Fancy-pants directors may plonk Figaro in Trump Tower, Fidelio in Guantanamo, or have Papageno play his flute under a freeway flyover, but Mimi's hand will always freeze in a Parisian garret, Tosca take revenge in Rome and Turandot send suitors to their deaths in Peking.
It's one of the reasons that the composer is so dependably popular—and occasionally sniffed at—that audiences know what to expect. For directors of Madam Butterfly, the question is not about period or location, but the extent to which its 19th century Japanese setting is rendered literally or merely suggested.
This revival of Joachim Herz's 1978 production is certainly in the former camp with its set of sliding paper screens, almost classically so. For its sepia tones, applied even to the trees and naval uniform, make the piece appear fixed in time like a faded photograph.
Played within a frame somewhat set back from the orchestra, the almost Brechtian effect is to distance the action and heighten critical judgment, particularly in the first act as Jonathan Burton's Pinkerton pursues his Butterfly in lovely flowing lines at variance with the moral vacuity of a rotter. It is like watching a bear play with a porcelain doll.
By the same token, the staging reduces the emotional punch, especially in passages where even the nuanced conducting of Lawrence Foster rather overwhelms the singers.
Nor, apart from her appearing in an American style dress, does there seem any evidence of the passage between acts 1 and 2 of three declining years in the now abandoned "Mrs B F Pinkerton" household.
The greater therefore the achievement of Karah Son in the title role to accomplish the transition from 15-year-old ingénue to tragic heroine with such heart-rending candour.
The performance grows as the drama progressed.
The voice has a lightness suited to the young Butterfly's captivating charm. Later there is just the slightest hint of alarm underlying the defiantly confident declaration that Pinkerton will return "One fine day". Then, over light, mechanical, keening orchestral chords, she slowly realises the terrible truth with deliberate, almost conversational phrasing. The pacing is immaculate.
Rebecca Afonwy-Jones as Suzuki and David Kempster as American consul Sharpless circle the action like worried guardians.
This may not be the most brilliantly hued Butterfly you will ever witness, nor does it shine with the greatest stars, but it works well enough to justify its revival and a tour that will bring the production also to Bristol, Milton Keynes, Llandudno, Birmingham, Plymouth and Southampton. Linda Richardson and Judith Howarth will sing Butterfly in some performances, with Paul Charles Clarke also appearing as Pinkerton.
Reviewer: Colin Davison