Madam Butterfly
Giacamo Puccini
Raymond Gubbay
Royal Albert Hall
–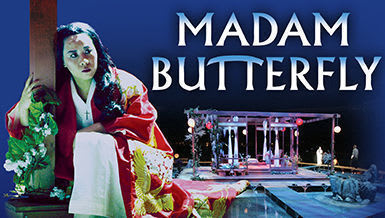 Raymond Gubbay should appear in the thesaurus as a synonym for spectacle. These guys really know how to find the wow factor with opera staging.
Madam Butterfly performed in-the-round returns to the Royal Albert Hall, the sixth production revival since 1998. Once more, the hall is filled with water to create the floating world on which the story unfolds.
Opera in-the-round is tricky, let alone sung in a hall famous for its bathtub-like acoustics, and there are some musical discrepancies audible. The co-ordination of rubato between cast and orchestra isn't yet seamless and the chorus entering from six different entrances occasionally lose precision.
In general, better diction is required; the opera is sung in English but there are no subtitles to help us out. Impeccable delivery from Catherine Hopper (Suzuki) and Wyn Pencarreg (Sharpless) proves understandable English is possible.
Musical fault-finding aside, this production is mesmerizing. Director David Freeman ensures each moment is exquisitely detailed and topped off with brilliant acting from the whole cast. Designer David Roger creates a striking Japanese world; his traditionally costumed cast spill onto stage with a flood of rich colour and texture.
Freeman highlights the difference between Pinkerton's American confidence and the constant deferential bowing from Butterfly and her entourage.
Oliver Gooch, conducting the Royal Philarmonic Orchestra, teases all of Puccini's passion from this richly orchestrated opera. Triple cast, this was the leads' first outing and James Edwards tenor voice soared as an unthinking but not unkind Pinkerton. Cio Cio San's (Madame Butterfly) youth and fragility was captured wonderfully by Nam-Young Kim. Watching her wait for her American husband's return was painful; she transmitted a believable blinkered conviction that all would be well. At times, the voice lacked the line needed to fill Puccini's intense lyrical solos but this didn't detract from her wonderful characterisation.
There are productions that highlight the darker side to Madame Butterfly's story, or are able to work with the personal drama that this Verismo opera offers often lost on such a grand scale. Yet the magic of Puccini's music still works, and Freeman and Roger's product still packs a punch on it's sixth revival.
This is the opera to take the first timer to, to convert a doubter or simply to have a nice night out. Acoustically it can't compete with a proscenium arch opera house, but what it lacks in that department is more than made up for with seductively beautiful spectacle.
Reviewer: Louise Lewis