Madam Butterfly
Giacomo Puccini with liberetto by Guiseppe Giacosa and Luigi Illica
Welsh National Opera
The Lyric, Theatre Royal Plymouth
–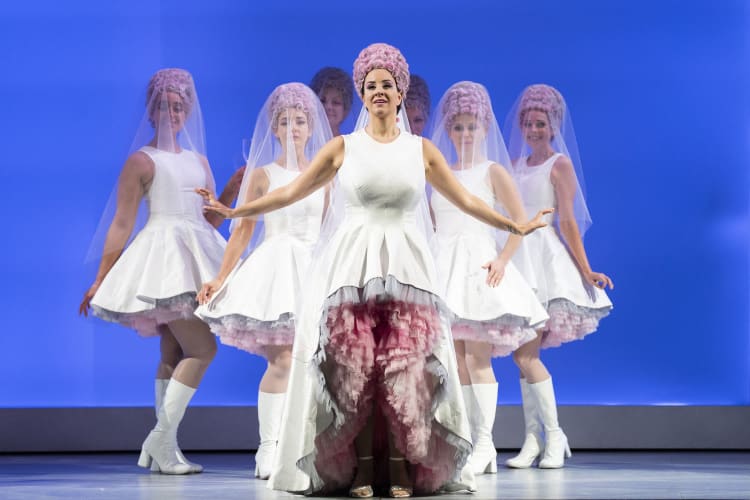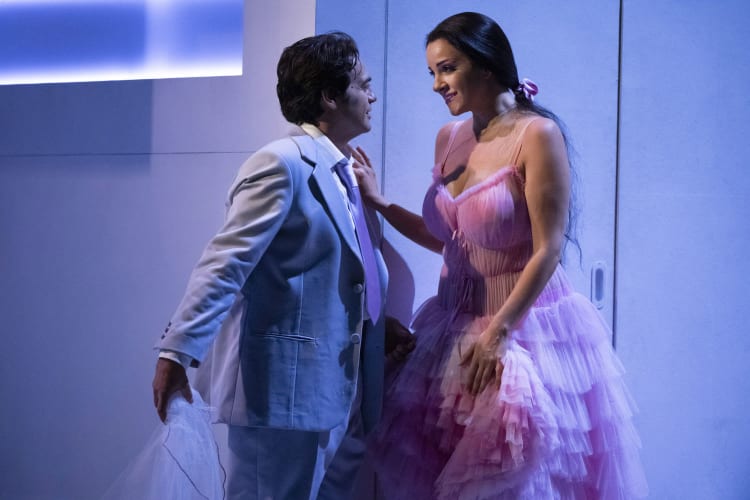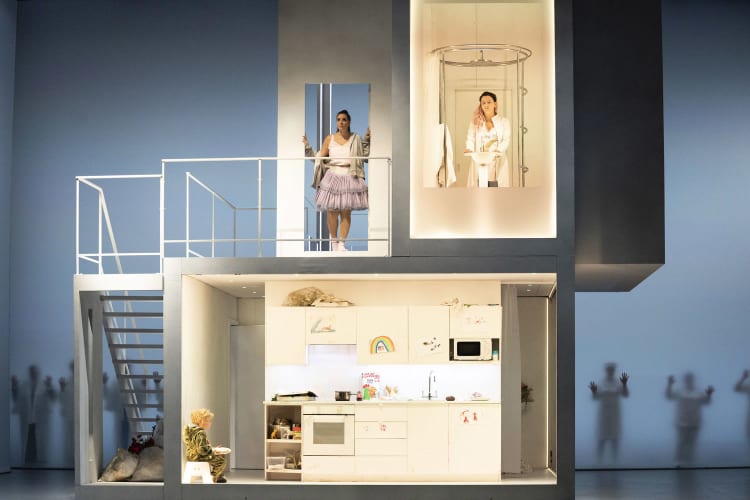 Australian director Lindy Hume's WNO debut is a stark and uncomfortable retelling of the Puccini classic where sex trafficking is foremost and an elastic marriage contract brokered over a glass of whiskey.
Reset in a 'dystopic near-future version of our own society' (which clashes somewhat with references to Nagasaki and Puccini's recurring use of the pentatonic scale), Hume's Butterfly is stripped bare: the focus is entirely upon the adolescent geisha, forced to perform to support her widowed mother and leaping at the chance to escape her controlling uncle by marriage to a handsome US Navy officer. She is not quite the innocent but she is only 15. In a male-dominated, imperialistic, corrupt world where mid-teens is already seen as past-it, a marriage contract is a passport for sex at a price and a monthly break clause, a simple get-out.
Designer Isabella Bywater's statement costuming follows the theme with grotesque pink genitalia-esque frothy lace petticoats cascading from prim wedding dresses dropping a heavy hint while white wet-look boots, white boilersuits and tight pink curly wigs are de rigueur among Cio-Cio-San's friends and family.
Misty screens with vague shadows beyond emphasises Butterfly's isolation and hints at life and watchers outside the claustrophobic bubble of her clean-cut but increasingly less than clean house on the hill. Bywater's cubes revolve to showcase glimpses of kitchen, utility room with toilet, bathroom, balcony and bedroom slickly moving the action (and inaction) without scene changes other than Ash Woodward's swift video projections playing butterflies and petals on the walls.
Tenor Leonardo Caimi is superbly sleazy as Pinkerton, dismissive of Butterfly's treasures and uncaring as bridges with family, culture and religion are burnt. He has selected her from a good assortment on offer, paid the fee and is impatient to get through the farcical vows to the consummation. His velvety tones blend beautifully with baritone Mark Stone as Pinkerton mocks the ceremony and Sharpless warns him that Cio-Cio-San is taking this all very seriously.
James Southall keeps the orchestra pacey and lyrical while Tom Randle is slimy as pimp Goro, bass Keel Watson commanding as The Bonze and Kezia Bienek slap on point as devoted friend / maid / au pair Suzuki. But this really is a one-woman show and Joyce E-Khoury is up to the task.
Portraying exquisite poignancy and palpable despair, E-Khoury is compelling particularly in a heart-breaking "La note dell'attesa" during the agonising overnight vigil and does justice to the iconic "Un bel di". Quite superb.
Unrelenting and unapologetic, Hume's Butterfly is apposite for the #MeToo 21st century.
Reviewer: Karen Bussell