Madama Butterfly
Giacomo Puccini; libretto by Giuseppe Giacosa and Luigi Ilica, based on a play by David Belasco, a short story by John Luther Long and a novel by Pierre Loti
Ellen Kent and Opera & Ballet International
Sunderland Empire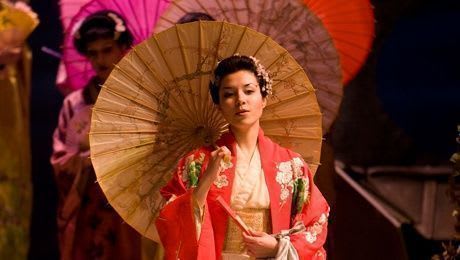 There was an audible reaction from the audience as the curtain rose on the Madama Butterfly set. It's not opulent or sumptuous like the set for La Traviata but its simplicity and colouring sums up Japan (at least to western eyes): a paper house with its sliding walls set in a beautifully ordered and variegated garden.
The scene doesn't change—the setting is the same for both acts—but what does change is the lighting. Valeriu Cucarschi's lighting design is subtle, and in the orchestral transition between the first and second scenes of act 2, the changes from afternoon to evening to night and then to dawn, with the unmoving shadows of Butterfly, her son and the servant Suzuki cast on the paper walls from within, were mesmerising.
But this production is not only notable for the visual; Ellen Kent has put together a talented and truly international cast, introducing a new singer to the UK, Korean soprano Maria HeeJung Kim as Cio-Cio San. She trained in Milan and made her debut in the role at La Scala, so it goes without saying that hers is a beautiful voice but what is equally impressive is her nuanced performance. There is a subtlety in her performance and—inevitably—a much better understanding of the oriental mindset than is usually found in western singers.
Pinkerton, the faithless (from the outset) husband, is played by the powerful Spanish tenor Giogio Meladze; mezzo Zara Vardanean from the USA is Suzuki, the servant and Moldovan baritone Iurie Gisca, a regular company member (Giorgio Germont in La Traviata and the title role in Nabucco), plays the US consul Sharpless with the sympathetic authority the part needs but doesn't always get.
And then there's Isaac Swan, playing Cio-Cio San's son, Sorrow, who, at the curtain call, got what was probably the warmest reception. But then he is just 5 years old…
The curtain call produced something which I haven't seen at an opera before—the audience booed Pinkerton. It was like being back in panto! But then it changed to applause; boos for the character but applause for the performer! Quite a commentary on the performance!
Vasyl Vasylenko's conducting brought out all the lyricism of Puccini's music and Ellen Kent's direction—for she directs as well as produces—gave us one of the most sensitive Butterflys I have seen in more than 40 years of opera-going.
Reviewer: Peter Lathan