Mad Blud
Created and directed by Philip Osment
Theatre Royal Stratford East Youth Arts and Education
Stratford Circus
(2008)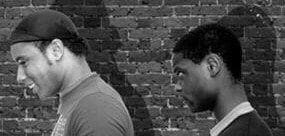 You could hardly be more timely than this new show from Theatre Royal Stratford East's Youth Arts and Education group. Since April these young people have been interviewing and recording a cross section of their community about knife crime and youth violence and here they present a verbatim theatre piece based directly on that research and constructed from the actual recordings they made. With a final script decided only a couple of days ago, five young actors use a technique employing MP3 players: the actual edited recordings being played back to them over earphones to be delivered by them a moment later. This could easily produce a hesitant stuttering delivery but they have mastered the technique with skill and we get a fluid presentation that preserves the spontaneity and self-correction of live speech.
There is no narrative here, though there is a dramatic structure in the way in which the material is arranged; the impact of the work comes much more from the knowledge that these are real voices being given a public hearing. I doubt that such directness could have been obtained had they been recorded for a television programme or even for radio. What we get here is not self-conscious interviews but people talking from the heart, their words given live immediacy by these actors, with an added poignancy from their being so close in age and background and coming from the same communities as recent murder victims.
This is not just an animated piece of social research. The performance is a real piece of theatre. The cast themselves individually welcome the audience into the theatre and, on starting their MP3 players together, launch into a beautifully played opening scene in which three young black guys, with the help of a shawl and a couple of scarves, become three older ladies. First generation immigrants from the Caribbean bemoaning what has happened to modern youth. Immediately the audience accepts these performers as presenting a whole range of different personalities. We hear from teenagers - or younger - talking about gangs and black on black crime, a policeman who gives us crime details and how he handles his response, a mother whose daughter has been stabbed, a young woman who has known so many victims that she now refuses to go to funerals, a girl who explains that her frustrated peers either tend towards violence or become obsessed with guys, youths who say you can't be friends with both sides and gangs don't like you being on your own and doing your own things. As well as response to knifings and gang rivalries these young people give a strong message that young people feel there are 'no opportunities for them,' something belied by the very existence of this performance group, but an indication to the authorities that opportunities to change and improve lives are not presented in a way that many young people recognize as being appropriate for them. Finally we return to those aging 'aunties' deploring the way in which youth violence is going against their hopes and aspirations for black people in Britain. 'They need to stop killing our dream,' as one of them so graphically declares.
In fifty minutes you certainly can't cover everything and one thing that is missing is the voice of those who are in gangs. 'Why?' is surely the question to which we all desperately want an answer concerning the violence of today's younger generation. But this show does not try to offer answers but to show how a community feels about what is happening. Getting a response from the perpetrators of violence that is not just a display of bravado might be difficult - indeed, I understand attempts to do so showed just how difficult, but even that reaction tells us something and I think should have had a place.
Mad Blud is not a work in progress that is still being developed and a session with the audience after each performance gets their response to how the issues are presented, what is effective and what is missing. It is a piece I think we will see more of and it certainly could make a useful tool in presenting these issues to the young people involved, perhaps by taking it into schools or performing it in places - on estates or in shopping centres perhaps - where it could engage those who might never go any where near a theatre.
Ends 16th July
Reviewer: Howard Loxton