Far from the Madding Crowd
Thomas Hardy, adapted by Ali Gorton
Theatreworks
In the grounds of Wilton House, Wiltshire
(2005)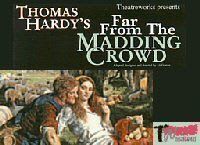 This play, adapted from Hardy's novel by Ali Gorton, who also designed and directed it, as well as taking an acting role, is set in the familiar Hardy landscape of Egdon Heath.
Gabriel Oak serves the young and skittish Bathsheba Everdene, owner of the farm on which he works as a shepherd. Bathsheba, after toying respectively with the affections of Oak and her neighbouring farmer Boldwood, marries the dashing Sergeant Troy. Which of course is bad news for everyone. When Troy's shameful secret comes to light, tragedy follows inexorably.
Plenty of dramatic material here, so why did it fail to satisfy?
Part of the problem lies, I think, not just in the transfer from page to stage, but in presenting Hardy out of doors.
In the novel the weather, for instance, is an ever-present influence. It's like an extra unpredictable character, always there, affecting mood and shaping events. Difficult to include this character effectively in a piece of drama taking place out of doors. However impressive the thunder rolls from your sound system, if the sun is shining it's not convincing. Much easier to control these things within a conventional theatre.
But there are other faults, I'm afraid, some quite basic. There is a prolonged and tense scene in which Bathsheba and Troy declare their love. It's a pivotal moment, the spark that ignites the subsequent conflagration.
Now we'd really like to be able to concentrate on this, but, believe it or not, there's a posse of cavorting peasants upstage (or, rather, uplawn), waving sickles and leaping about almost, but unfortunately not quite, at the limit of our vision..
Sorry, dears. Basic tenet of drama – if you've got two sets of characters, one of which is standing still and the other moving about, your audience is going to focus on the one that's mobile. So shame on you.
And giving another character important news while you are both huddled together on the same settle isn't a good idea in a theatre. In an open air production it can lead to misunderstanding, boredom and the audience packing up and heading car parkwards.
But this play has its good aspects – the attractive and lively pair, Bathsheba and Troy, played by Basienka Blake and Mark Clark, stir our emotions. Whether we love them or hate them, we care what happens to them.
And then there's the peasant folk's country dances and merry songs, possibly a little too jolly considering the nastiness, brutality and shortness of most of Hardy's characters' lives, but there you are.
Some pleasant moments. And yet, underneath, you get the feeling that this company either doesn't know or doesn't care enough about its audience. That they take for granted that because they are having a good time the audience must be sharing it. That they have never bothered to wander behind the back row of chairs and really observe what the audience is experiencing..
That white square tent in the middle of the set, for example. Look, we know you've got to have somewhere to keep your props and costumes and sound equipment, but does it have to dominate the whole scene? And be permanently spotlighted?
But where lack of consideration for audience really shows is in arrangements which have nothing to do with the performance.
So where were the signs showing us where to collect our tickets?
Why wasn't there a designated space in front of the main body of the audience for those without chairs? Without a theatre's raked seating you really can't allow jolly family and office parties to set up their dining tables directly in front of the acting space.
And what was the point, at the end of the play, in continuing to light the performing area? This is a professional production, so why were the lights left focused on the acting space – and the unfortunate tent – while the audience were left groping their way in darkness towards an unsignposted exit?
Oh yes. Back to the play itself. And this is the last whinge. Promise. But it needs to be said.
When sheep are sheared, the fleeces are bundled up and tied. True, they got that bit right. But these fleeces had the skins still attached (Ouch!).
When you've just driven through miles of sheep-dotted Wiltshire landscape and are watching the play from the middle of an agricultural estate, within walking distance of the world-famous Wilton carpet factory, such a mistake - believe me - will be noticed.
Reviewer: Anne Hill