Made Up
Devised and performed by Alexis Tuttle and Emily Holyoake; directed and written by James Yarker
Stan's Café and Birmingham Repertory Theatre
Arts Centre Washington
–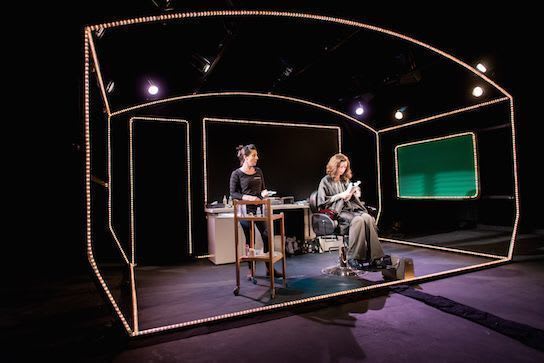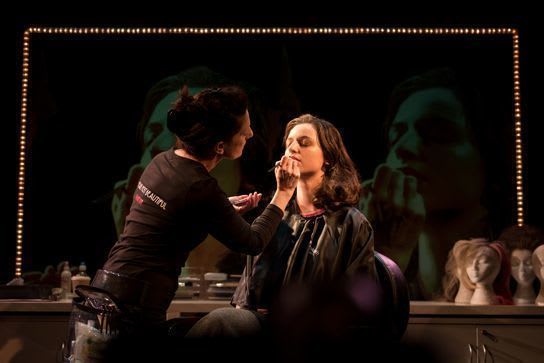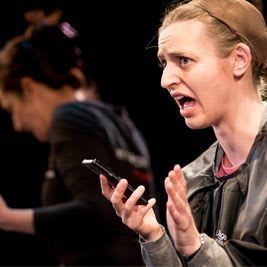 It's 6AM and film make-up artist Sue (Alexis Tuttle) is preparing her trailer for the day's work. In comes Kate (Emily Holyoake), a young actress, somewhat unsure of herself but excited to be involved in her first major film role. The two women, inevitably, talk as Sue applies the requisite make-up.
The caravan/trailer is outlined in what used to be called fairy lights and the make-up chair is centre-stage facing not only the audience but also a video camera, images from which are projected onto a screen at the back.
We move backwards and forwards through time, from Kate's initial nervousness to her acceptance speech at an awards ceremony, from a dreadful TV ad in which she is made up as an alien to an historical feature film, from her professional life to the private, from worrying about whether she should do a film which involves a nude scene to wanting to do a low budget movie against the wishes of her agent, from her relationship with her agent to relationships within her family. In all of these conversations Tuttle plays the other part.
However the play does not concentrate exclusively on Kate; Sue's life—her stormy relationship with her daughter, the death of her mother, her attempts at online dating—all play a significant part with, in turn, Holyoake playing the interlocutor.
While these conversations intertwine, Sue applies appropriate make-up to Kate for the important events and, where necessary, fits wigs.
These fragments (for such they are) of stories are interesting and occasionally provocative but the demarcation between them is not always clear—although lighting change is used at times—and it can take us a while to catch up. The main problem is that, because one person sitting in a chair (and having to hold still) with the other moving around her is so static, the usual signifiers of change of character, such as body language and costume change, are only rarely available and we have to rely upon voice and, to an extent, facial expression.
The conversations are similar in nature, too, and this leads to a sameness of pace and dynamic and a lack of tension.
It's an interesting experiment and does give us food for thought for, although it focuses on one who is (in modern terms) a celebrity and in the sights of the paparazzi, it does show that their problems and concerns are not that dissimilar to what we who live more mundane lives face. And the actors certainly rise to the challenges it presents.
After Washington the production goes to Alnwick Playhouse (7 June), Customs House South Shields (8), Hartlepool Town Hall Theatre (9) and Seaton Delaval Arts Centre (11).
Reviewer: Peter Lathan