A Madman Sings to the Moon
Mark Thompson
Royal Lyceum Theatre, Edinburgh
(2004)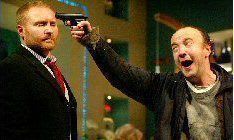 One of the most difficult things about reviewing plays is when you have a reaction to a piece that is violently different not only to the opinion of other theatre reviewers - after all, reviewers are just people - but also to people whose opinions about theatre you greatly respect, and generally agree with. In cases where this happens, like with A Madman Sings To The Moon, and when it's possible, I like to take a bit more time than usual to reflect on what I'm missing in a piece that others are catching hold of.
Having seen Madman two days ago, I have to admit that I have yet to find a revelation that makes this play more impressive than my first impression led me to believe.
From the moment Kenny Wright (Tony Cownie) enters the posh Café Bliss, it's clear we're headed for a clash of worlds. Despite PR workaholic Frank (Phil McKee) attempting to discuss higher ideals and goals with the gun-wielding Kenny, this clash never fully materializes. This is not due to any deficiencies in the performances, but rather to the fact that the script fails to go over any new ground in the first act.
Kenny attempts to explore the motivations behind the behavior of each of the people he holds hostage in the play, but we never get a sense of these characters aside from the one trait that seems to define them. Tania (Jenny Ryan) is an actress/waitress, Frank is defined by his job, Polly (Estrid Barton) is a posh absentee mother and Crawford (Andrew Dallmeyer) is a doddering old professor.
The second act picks up a bit from the first, as Thompson's language gains a more poetic feeling and we learn more of Kenny's background - the really interesting (not to mention stomach-churning) details of his situation come out in the last half hour or so of the evening.
With the exception of a brief few moments after a gun goes off, there is no real sense of danger in this show. Partly this is due to Cownie's endearing and sympathetic portrayal of Kenny, an everyman who has been plowed under by an uncaring system; there are moments when a sense that he might do some real damage to some of the characters is undermined by the fact that, gun or no gun, he does come across as a nice, confused guy.
Designer Edward Lipscomb has completed the by-no-means-small feat of constructing what appears to be a fully operational café on the Lyceum stage; although some of the music seems dated. Reflecting Kenny's tendency to sing bits from old, popular songs, most of the music was from at least ten years ago; one notable exception is a Robbie Williams clip that received a big laugh from the audience.
A Madman Sings To The Moon is definitely a case of "social-crit-lite"; none of the attitudes or "insights" into the "types" being portrayed is particularly revolutionary. To those looking for a night of black comedy that won't necessarily leave them with much to think about, this isn't necessarily a negative point. But those who feel that social, class-based prejudice is something that needs to be confronted and changed probably won't find satisfaction in the "resolution" of this play, in which none of the middle-class characters really convey a sense of being changed by their experience and Kenny has found no real solutions to his misery and inability to cope.
"A Madman Sings to the Moon" plays at the Royal Lyceum Theatre, Edinburgh, until Saturday, 9 October 2004.
.
Reviewer: Rachel Lynn Brody