The Madness of George III
Alan Bennett
Theatre Royal, Bath and Peter Hall Company production
Yvonne Arnaud Theatre, Guildford, and touring
(2011)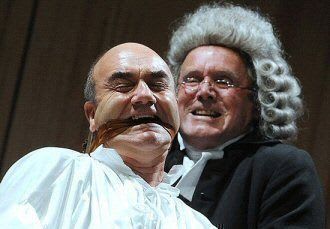 King George III founded the Royal Academy of Arts, had a passion for science, literature and music, his enthusiastic interest in agriculture earned him the nickname 'Farmer George' and he is regarded as "a most cultivated fellow", yet he is unfairly best remembered for his uncontrollable bouts of lunacy (now widely believed to be due to Porphyria) and Bennett's play focuses on the period around 1788 and the first of the king's mental breakdowns.
At the beginning of Christopher Luscombe's excellently staged production, George's compassionate nature is shown when a mentally deluded woman attempts to kill him with a dessert knife, an episode he brushes off lightly with instructions to look after the attacker. The doctors who try to cure the king's illness show no such compassion and between four of them he is purged, blistered, bled, has his bodily excretions examined and is forcibly bound to a restraining chair and gagged, the final torment being separated from his beloved wife Charlotte (a cosily regal Beatie Edney).
Premiered at the National Theatre in 1991, The Madness of George III is a serious historical play but one which engages the emotions to such an extent that the pain, bewilderment and frustration of a king, who is overruled and subjected to horrific torture all in the name of medical science, is transferred to the audience.
The versatile David Haig gives the performance of his life with unbelievable reserves of physical and psychological energy which must cause him to feel totally drained and exhausted after every performance. I know I was! He takes his audience with him every step of the way from the cosy domesticity of bedtime with 'Mrs. King' sitting up in bed knitting and solicitously feeling 'Mr. King's stomach when he complains of pain, to the horror of an illness no one understands. Cradled in his wife's arms she asks, "Do you think you are mad?" Haig's pathetically sad "I don't know" tears at the heart-strings - a cry for help that no-one is able to answer.
In the huge cast of twenty four, there are some particularly fine performances. The doctors, Chris McCalphy, Madhav Sharma, and John Webb, each proffer their own 'cures', with Clive Francis's Dr. Francis Willis convinced he has effected a cure, but the recovering king has a little joke of his own making the doctor read a passage where Shakespeare's King Lear is recovering from madness. "The recovery," says the king, "is due to time," but there are a few worrying signs that this is not quite the end of it.
In the midst of the crisis the machinations of political life are played out with an impressively upright Nicholas Rowe as William Pitt, a very young Prime Minister who is having to deal with Christopher Keegan's foppish and fat Prince of Wales desperate to take over the monarchy from his father, and needing a position in life. "To be heir to the throne is not a position, it is a predicament," he states, which may have a little resonance with today's post-Hanoverian monarchy.
Janet Bird's deceptively simple sets, with many changes of venue, are complemented by Oliver Fenwick's changes of lighting and Malcolm McKee's sympathetic music.
In this exquisitely timed drama mixed with humour, pathos, bewildered terror and pain, Haig also copes with copious amounts of often quick-fire non-stop dialogue, some of which is totally nonsensical, and still manages a performance which will be talked about and marvelled over for years to come. This could easily be the theatrical event of the year. Sheer Genius!
Touring to Truro, Cornwall and Chichester's Festival Theatre, before opening at the Apollo Theatre in the West End on 18th January, 2012 until March 31st.
Alex Ramon reviewed this production at Richmond
Reviewer: Sheila Connor