MaEternal
Directed by Liv Lorent
Choreographed by Liv Lorent and the company
balletLORENT Part of Dancing the World 08 Northern Stage, Newcastle
(2008)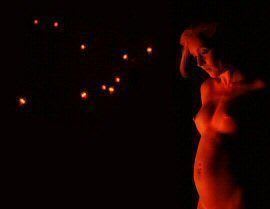 MaEternal (the derivation of the word is obvious: "ma", "maternal" and "eternal") is about pregnancy. It is, says Liv Lorent, "set in a dreamland with The Sandmen as the witnesses to dreams and nightmares of women facing both the idea and reality of pregnancy." The company consists of two male dancers (The Sandmen) and six female dancers from balletLORENT - and eleven pregnant women.
The piece begins in familiar balletLORENT style with a naked dancer (Kelly Wilson), hair blown back by a wind machine, spotlighted at the side of the stage, an image familiar from la nuit intime, and then, after the introduction of The Sandmen bouncing - and riding on - large balls which are reminiscent of spacehoppers, moves into what is essentially a collage of what could be dreams, nightmares or (in some cases) reality, all of which flow into each other seamlessly.
Some of the scenes were amusing: for example, a whole host of toy babies crawled across the stage, and - and this brought rueful laughter from a large number of women in the audience - a dancer did a headstand in a toilet bowl. A more effective representation of morning sickness would be difficult to imagine!
But the humour is just a small part of the whole range of feelings and experiences presented on stage: there was joy, fear, pain, even anger. At times, as a man, I felt left out, looking into a world which I can never experience and which, as a childless male, I have never really come close to. I could, however, relate to the Sandmen, to their separation from and their solicitude for the women, and could not fail to be moved by the sheer grace of the movement.
As always, Liv Lorent and her time provide much food for thought as well as leading the audience's emotions. There were some rather misty eyes at the end!
Reviewer: Peter Lathan