Maggie and Ted—the birth of Brexit
Michael McManus
Akol productions Ltd.
Yvonne Arnaud Theatre, Guildford
–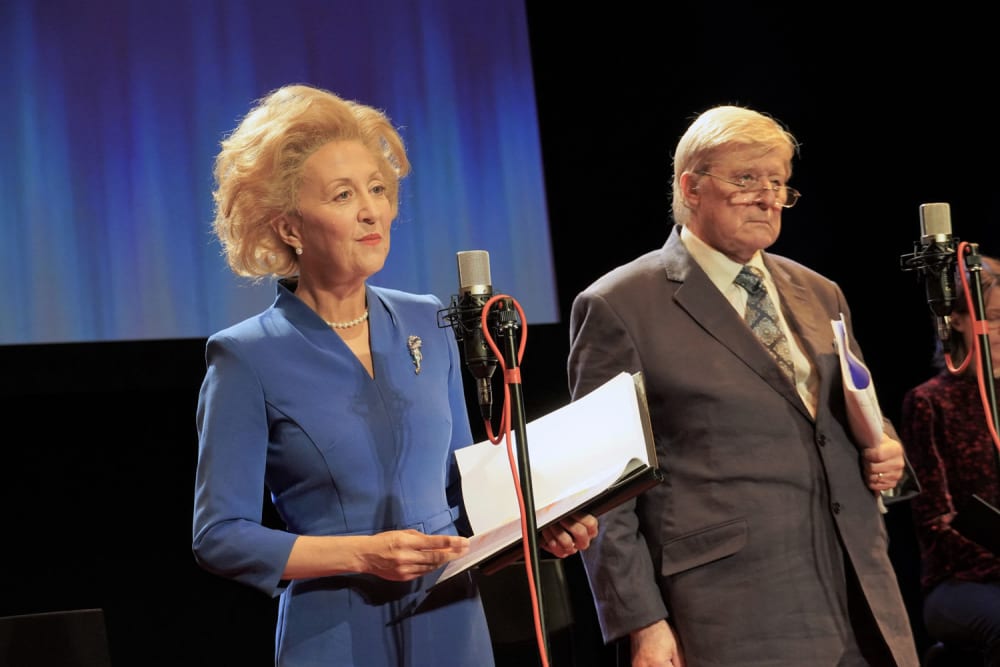 The author of this play was private secretary to Edward Heath for many years so he certainly knows what he is talking about.
His portrait of Heath is not a flattering one, describing the man as being in a "twenty year sulk", but he begins the story with Heath's childhood and his adoration of a mother who encourages and praises his every triumph. Martin Jarvis is a genius at facial expressions and body language. With every word of praise, he becomes the favoured child, basking in the adulation and being very proud and pleased with himself. His 'Mummy' had a great deal of influence in creating the man. He 'grows' with the script, gradually becoming grumpy, resentful and begrudging another's success.
It is interesting to have a glimpse of Margaret Thatcher's father who was also encouraging but with a 'get on with the job' attitude, and she does just that but with her own ideals and ambitions. Clare Bloomer, without a doubt, is the best 'Maggie' ever, inhabiting her role almost as a reincarnation with expression, voice, attitude and mannerisms exactly as we remember her.
Two people from ordinary working class backgrounds, both fiercely Conservative, both ambitious and both in turn achieving the status of Prime Minister, both 'Never Ever Wrong'—and how they hated each other.
Of the other four characters, Ted is accompanied by his Private Secretary (our author McManus here played by the talented Simon Stallard) and also his mother Edith—performed by Lisa Bowerman, who manages to get the right balance of adoring mother without becoming overly sentimental. She is also, briefly, Carol Thatcher.
Maggie is accompanied by Jeremy Lloyd (also briefly Mark Thatcher) as her private secretary as well as Jon Glover as Alderman Roberts. Glover is also required to be several characters including Maggie's father, Denis Thatcher, Harold Wilson, Edna Everage and even a hilarious impersonation of Boris. In the programme notes is the comment, "author McManus took an almost sadistic pleasure in adding ever more impressions to test Glover's powers of parrot!" I hope it was as a joke.
Performed as a radio production with scripts in hand, the story actually begins in Ted's home on the day he died, but he is not letting death have its way and continues to travel the political road from the grave, a very neat ruse to have their lives running in parallel. Joanna Read's excellent production proceeds at a cracking pace, the script peppered with biting one-liners and anecdotes together with a wealth of information, with the humour understated but very much in place in the script and perfectly captured by the performers. A very enjoyable and laughter-filled evening.
Reviewer: Sheila Connor