Maggot Moon
Based on the novel by Sally Gardner adapted for the stage by Jemma Kennedy
Unicorn
Unicorn Theatre (Weston Theatre)
–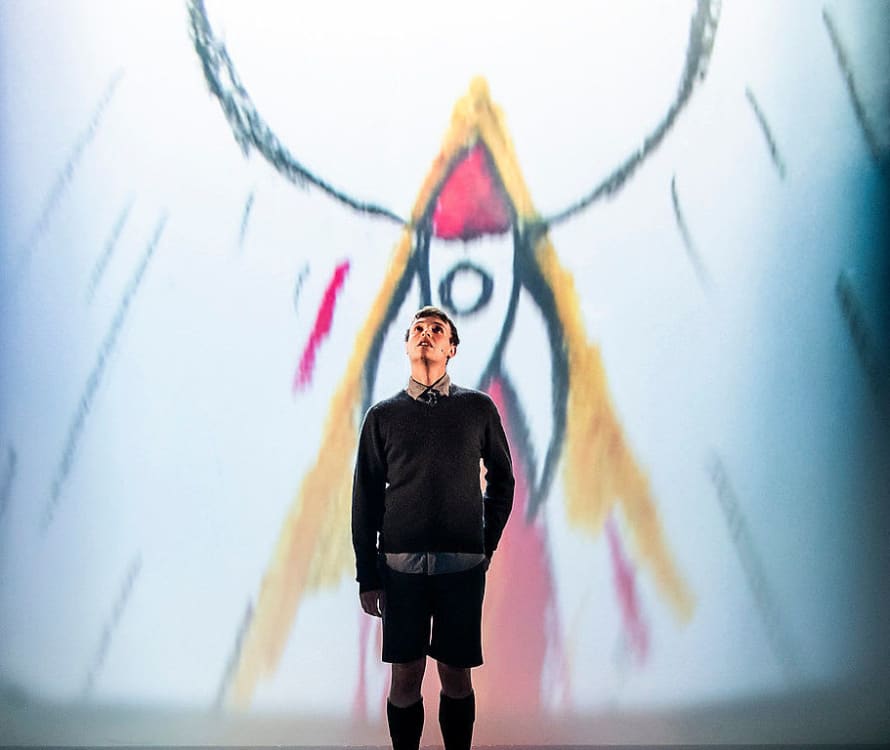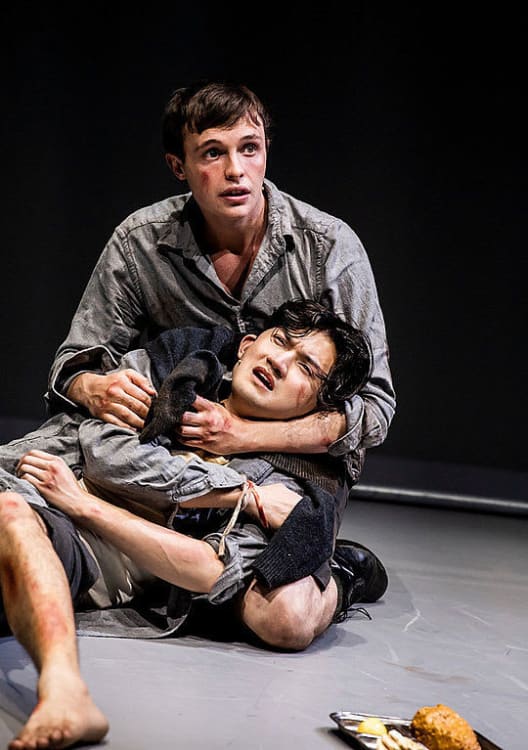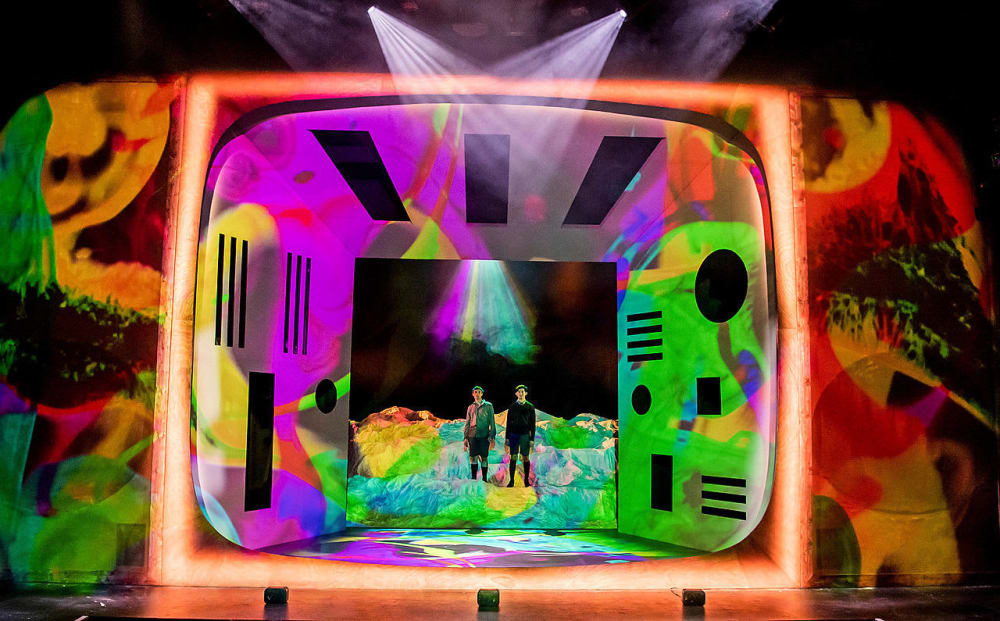 Sally Gardner, who worked in theatre as a designer before turning to creating books, won both the Costa Children's Book Award and the Carnegie Medal for this novel which was published in 2012. It was written as a first person narrative and for most of the time Jemma Kennedy's adaption is also a monologue by dyslexic 14-year-old Standish Treadwell.
It is a disturbing story set in the 1950s in a dystopian Orwellian country referred to as the Motherland, but it's a parallel Britain for its national song is "Jerusalem" with new words. This is a society of spies and surveillance run by a Neo-Nazi regime, a place of sudden arrests and disappearances where there is no place for difference, deviance or racial imperfections. Standish's eyes (one blue, one brown) already mark him out as different. Here, people live in zones according to status: the elite and the rich in Zone1; Standish and his grandpa live in Zone 7, where the outcasts live. It is a grey world of poverty, hunger and fear.
The bullies at school may chant "can't read, can't write / Standish Treadwell isn't bright," but they are wrong. He loves words: he calls them "sweets in the mouth of sound". Standish has a big imagination. He thinks "what if…?" His friend Hector said, "there are train-track thinkers, then there's you, a breeze in the park of imagination."
Hector Flush is the boy who moved in next door. Together they invented their own planet Jupiter and the space ship that would take them there and instead of their grey world they dream of Coca-Cola where the sky is blue, people sing in the streets and he and Hector drive around in an ice-cream-coloured Cadillac.
Hector's family used to live in Zone 1, his dad must have been important. Then they were made to move. Now Hector and his parents have disappeared and Standish is called to the Headmaster's office where a man in black leather asks him questions, especially questions about the field beyond the wall behind their house. But Standish doesn't tell him about the tunnel his parents dug from their cellar underneath the wall or the spaceman he found hiding in it.
Then the whole class watch the TV to see the live transmission of the take off of Motherland's mission to land men on the moon and, strange this, one spaceman in the rocket is the man he knows is in their cellar.
That is only the beginning of this exciting David and Goliath story that presents Standish against the Motherland: a tale of murderous teachers (with just one on the right side), fakery and friendship that is full of warnings and of encouragement too.
Lucy Sierra's setting is like the inside of a cathode ray tube television set with what Standish is telling backed up by live drawings made by Hector and some grainy black and white Motherland TV.
Jesse Jones's direction stirs the imagination by embracing being theatre. James Day's Hector is dimly seen at his drawing board; Standish stands there telling his story. This gives the few moments when a dark figure appears in the auditorium or a brief scene is actually acted out (including a boy-on-boy kiss that brought a strong reaction from a young teenage audience) a different impact.
James Newton is a splendid Standish. With 1950s short trousers and one sock slipping halfway down his leg, the grown man becomes a twelve-year-old, but it is his performance not his appearance that wins audience identification and rivets attention for an hour of storytelling. He takes you with him as he, Hector and grandpa stand up to cruel, dark forces but he can also handle humour without detracting from the darkness.
Maggot Moon is a reminder that you don't have to be top of the class to be a hero and it's all right to be different, though that kiss comes as a surprise. Is it a moment of discovery: another "What If?"
Reviewer: Howard Loxton