The Magician's Daughter
Michael Rosen
Little Angel Theatre in association with the Royal Shakespeare Company
Little Angel Theatre
(2011)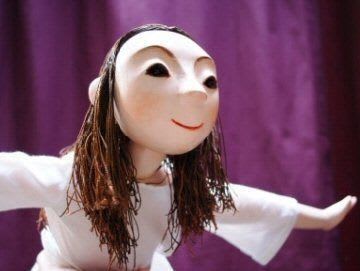 Aimed at the three to seven year-olds The Magician's Daughter was announced as 'inspired by Shakespeare's The Tempest,' which filled me with a little trepidation. I have an aversion to Lamb's Tales and Shakespeare rewritten to 'make it easier.'
If you want to pinch the plot and write your own version fine, Shakespeare did it all the time, but don't call it Shakespeare. It's what he wrote that makes it Shakespeare. A careful editing and some cuts, that's a different matter; there is rarely a production that hasn't done that, probably including those by his own company, and Little Angel and the RSC did just that with their delightful version of The Tempest for older children earlier this year. This however is something different.
It refers back to The Tempest, uses some of its character and borrows some of its songs and even a few verses of its poetry but is a new story. Miranda is now grown up and has a daughter of her own called Isabella. The tale of grandpa Prospero and what happened on his island has now become the little girl's favourite bedtime story, but this story is Isabella's.
It's raining when the play begins, with a catchy little number that goes "drip drop" with lots of repetition for the little ones. Isabella is in her yellow sou'wester and bright red wellington boots but the rain has got inside them. If only it would stop. If only they had grandpa's magic to stop it for them. That's what Isabella is thinking about where she goes to sleep after a story from her mum and a nice cup of warm milk
Grandpa's chest with his book of magic has started spinning in the darkness and she finds herself flying to Prospero's island where Caliban is digging up truffles from the ground and Ariel picking fruit in the treetops. They are both puppets: Ariel is quite like this year's earlier version but Caliban is of a naïve charm that is more of a baby version.
They each want what the other has got but neither is going to let them have it. Prospero broke his magic staff before he left the island; now each of them has one half of it. With a little bit of trickery Isabella gets both halves and brings them together.
Now it can work its magic again but this is also a moral tale; it is a symbol for sharing and co-operation. Now both of them can enjoy everything on the island and Isabella gets to take the magic home. Will it stop it raining? When she wakes up she will discover and since I'm sure you've guessed it won't be giving anything away to say it ends with a nice song about sunshine.
It is delightfully played by Lizzie Wort as Miranda and Caliban (also making music on instruments that range from a mandolin to a miniature keyboard and tinkling handbells) and Clare Rebekah Pointing as Isabella and Ariel, both actresses also being puppeteers. The audience get to help with a spell and it looks delightful.
Grown-ups will recognize "The isle is full of noises" and some of Prospero's lines and Ariel's songs and the youngsters can enjoy them for themselves and if unfamiliar words mean they don't catch all the information in them, they get told it anyway.
The Magician's Daughter is specifically tailored to an age group. A couple of years older and children could find it too juvenile but the skilled simplicity with which director Peter Glenville and the performers present the story will endear it to adults.
Performances of "The Magician's Daughter" at the Little Angel Theatre are scheduled until 10th July 2011) check at www.littleangeltheatre.com/lat/whatson/current/MTYy for details of dates and times.
Reviewer: Howard Loxton