Those Magnificent Men
Brian Mitchell and Joseph Nixon
New Perspectives Theatre Company
The Corn Exchange, Newbury, and touring
(2010)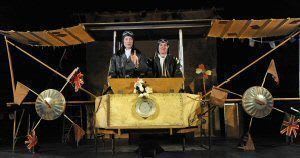 Brian Mitchell and Joseph Nixon's Those Magnificent Men is a hilarious spiffing yarn of the bravery of two plucky British pioneers, Captain John Alcock, a dashing WW1 fighter pilot, and his intrepid companion Lieutenant Arthur Whitten Brown, navigational genius despite a gammy leg, as they attempt to compete in a race to fly non-stop across the Atlantic. At stake is a £10,000 prize offered by Lord Northcliffe from the Daily Mail and, more importantly, the honour and pride of the British spirit of adventure.
C.P. Hallam is splendid as the British flying ace Alcock, perfectly capturing the gung ho spirit of this eccentric pilot. He fought in the First World War and became a P.O.W. where he dreamt of flying the Atlantic. Hallam was the perfect schoolboy hero of the Biggles era: tall, strong, reliable and with a sense of fair play. He is perfectly matched by Richard Earl's delightful Brown, the boffin who is going to navigate this perilous mission - although he has never navigated a plane before.
Both actors sparkle as a comedy duo with wonderful tongue-in-cheek humour. They play a myriad of other characters and are like a contemporary Morecambe and Wise, witty, with blundering tomfoolery and very funny.
They plan to do the 1880-mile journey from St. Johns in New Foundland in a converted Vickers Vimy biplane travelling at one hundred and three miles an hour - and hopefully reach London.
On stage they create this plane using tables, canvas wings and a variety of props including dustbin lids for the engines, all highly inventive theatrical business that works a treat.
They are faced with major problems as they can't find an airfield to fly from but eventually are given the Australians' field following their withdrawal from the race when their plane crashes. Luck seems to be on their side.
Armed with emergency supplies of Fry's chocolate bars, sandwiches and beer, our two stalwart adventurers prepare to take off with much press coverage. Huddled together in the tiny timber and canvas cockpit the journey of a lifetime begins.
They experience bad weather, including dense fog, and lose radio communication when the aerial breaks off. The noise of the engines is so great that the two aviators communicate through gestures and notes. Navigation becomes more and more difficult since they can see neither the stars nor the horizon. This is a journey made on a wing and prayer. They experience engine problems and have to drop altitude, snow filled the aircraft and ice formed in the intake valves of the engines. Brown precariously climbs onto the wings to try to sort out the problems creating moments of true theatrical magic.
Despite all the odds the plane finally manages to reach Clifden in Ireland landing rather unceremoniously in a bog, garnering spontaneous applause from the audience.
Our heroes received international fame and were presented with their cheque from Winston Churchill and two days later were knighted. Quite an achievement: "We did it because it had to be done and we could do it," they reported. Their statues to commemorate the journey can still be seen outside Heathrow Airport.
Directed with pace and inventive humour by Daniel Buckroyd and beautifully designed by Helen Fownes-Davies with dramatic lighting from Mark Dymock this was a comic tour-de-force performance by two consummate storytellers who relished in relating this classic slice of British history to an appreciative audience.
Bravo! Highly recommended.
Touring from 8th February to 16th May 2010 to Berkshire, Lincolnshire, Nottinghamshire, Derbyshire, Warwickshire, Staffordshire, Oxfordshire, Northamptonshire, Gloucestershire, Rutland, Cheshire, Worcestershire, Devon, Yorkshire, Northumberland, Cumbria and London.
A full tour schedule can be found on New Perspectives Theatre Company's web site www.newperspectives.co.uk
Reviewer: Robin Strapp