Those Magnificent Men
By Brian Mitchell and Joseph Nixon
New Perspectives Theatre Company
The Nuffield Theatre, Southampton, and touring
(2011)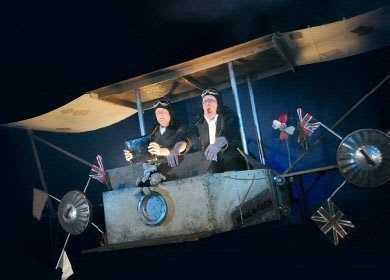 Those Magnificent Men traces the pioneering aviators Alcock and Brown's quest to cross the Atlantic non-stop in an aeroplane.
Ian Shaw as Captain John Alcock and Richard Earl as Lieutenant Arthur Whitten Brown are indeed magnificent as they relate their trailblazing tale.
They make a good comedy duo, with an excellent rapport with the audience, as they deliver some wonderful one-liners in this clever witty script with Earl trying to 'sex up' the story to make into a Hollywood blockbuster film, whilst Shaw is trying to stick to the facts.
The original idea to cross the Atlantic was first hatched when they were prisoners of war in Constantinople and when Lord Northcliffe from the Daily Mail announces a competition with a prize of £10,000 for the first plane to successfully complete the harrowing journey, the two men are hooked.
They're based in Newfoundland but have yet to find an airbase to fly from. Their Vickers Vimy biplane is constructed from a large packing case with tables and canvas sheets for wings and the construction of it is great fun to watch and received a spontaneous round of applause.
The flight is ironically scheduled for Friday 13th and as the two intrepid aviators don their Biggles-like flying caps you begin to appreciate the enormity of the task that must have faced the real Alcock and Brown.
They experience bad weather and dense fog, lose radio communication and encounter engine failure due to ice forming in the intake valves. Brown has to navigate by "dead reckoning."
This is a journey made on a wing and a prayer with "jolly jibes" and is performed with a mixture of pathos and madcap humour and the joy of sighting land was palpable.
The final landing in Clifden in Ireland is recreated using a scale model of the Vimy and is very effective.
Imaginatively directed by Daniel Buckroyd with a striking set by Helen Fownes-Davies this was a zany accomplished performance from two gifted storytellers and was simply tickety-boo.
"Those Magnificent Men" is touring until the end of November
Reviewer: Robin Strapp