Mahabharata
Written by Stephen Clark, music by Nitin Sawhney, choreography by Gauri Sharma Tripathi, directed by Stuart Wood
Palace Theatre, Manchester, and touring
(2006)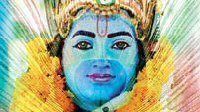 According to Vyasa, a revered figure in Hindu tradition, one of the aims of the Mahabharata is to show the four goals of life: pleasure, wealth, duty and liberation. These themes were clearly present in this new production of the timeless Sanskrit epic poem. It is brave to try to reduce the almost 2 million words into less than three hours of Dance Theatre but Stuart Wood and his collaborators are to be commended for this daring attempt. It has not been professionally seen in the UK since the late 80s in Peter Brook's lauded production. This touring version focuses on the story of a beautiful princess called Draupadi and the feuding that follows when she is lost in a game of dice to enemies of her five husbands who also happen to be distant relatives.
It is a fusion of Eastern and Western dance and musical traditions that is on offer. As with Brechtian theatre you are aware that you are watching a performance at all times. You are being asked to consider the merits of revenge as opposed to the benefits of mercy. To weigh the stupidity of losing all that you hold dear through an addiction to gambling with the carnage that results from this. Mercy does win through in the end as Draupad,i after calling for vengeance and then losing her own five children, calls a halt to the blood letting by pardoning their killer.
The set by Angela Davies was a giant curved ramp which changed colour depending on the different lighting effects very cleverly designed by Chahine Yavroyan. The height and depth that the set afforded were well employed. There was much use of large pieces of differently coloured fabrics which were unfolded across the stage. Sometimes they were waved to produce the effect of a river or sea and at other times they were a metaphor for the destruction being depicted. At one point Krishna sliced a red one as Draupadi fled the war. At another time they fell from the flies along with poppies. This effect was also used as a brilliant coup de théatre when Draupadi's honour was saved by Krishna who magically prevents her nakedness being revealed despite her sari being torn from her.
The staging made effective use of total theatre techniques. Both halves began with dry ice and spot lighting which created a mysterious atmosphere and helped to set the scenes. The puppets developed by Sue Buckmaster were exceptional. They were a clever mix of puppet and human and very moving as when a puppet mother gave birth to one of the characters. Later when another mother, Kunthi, lost her son on the river Ganges there were other puppet women washing nearby while she wept.
The costumes were very colourful and contrasting. The five brothers who all marry Draupadi were in white robes while she wore red. They cleverly lifted and processed with her trapped in fabric. The Kathak dancers performed in red and gold and when the wars happened the men of both sides donned dramatic long mauve skirts.
Nitin Sawney's original score was very effective and well executed by the musicians lead by Alies Sluiter. This was when the fusion of different traditions was most marked and moving. The cellos blended well with the flute, bansuri and tabla.
The richness of Sawney's music is that it was effective as background punctuation as well as in the foreground. There were beautiful melodies, some of which were sung and others chanted. As this piece used spoken and sung words and much varied movement the performers were called upon to be dancers, singers and actors. Sometimes their natural strengths and weaknesses were apparent. The Indian dancers were not very convincing actors and the Western actors were not entirely successful as dancers. The clever Kathak footwork and spins required by Choreographer Gauri Sharma Tripathi were more deftly executed by the Indian dancers. There was some loss of focus from time to time when the stage was full and many performers had to watch the main players: however most of the stage pictures were effectively realised. The energetic fight sequences were particularly successful with a brilliant use of batons. However some scenes went on too long for this reviewer.
It is difficult to pick out specific performers in what is a richly ensemble piece but Gary Pillai as Krishna the god and main narrator had a fine stage presence and very clear diction. Natasha Jayetileke who played Draupadi was graceful and feisty in a very difficult but pivotal role. Marcos James played Arjuna, one of the five brothers who marry Draupadi and who lose everything in the spiked game of dice. He had a powerful physical stage presence and fine singing voice. Elia Lo Tauro as Karna displayed much charisma and athleticism and Medha Divekar as Kunthi was very moving in her depiction of a mother who loses her son.
There is much to admire and enjoy in this production of Mahabharata which is on in Manchester till Saturday 2nd June before it heads for Edinburgh.
Lucy Ribchester reviewed this production in Edinburgh
Reviewer: Andrew Edwards