(All-Male) Iolanthe
Words by W.S. Gilbert, music by Arthur Sullivan
Regan de Wynter Production
Union Theatre
(2010)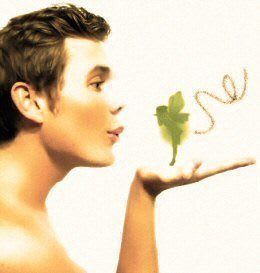 Last year Sasha Regan's Union Theatre all-male production of The Pirates of Penzance won critical acclaim, not least from me, and was revived this year at Walton's and the Rose. Before that there was an all-male Mikado and now she's done it again with this story of Peris and Peers that premiered at the Savoy Theatre in 1882.
It seems particularly appropriate to be reviving a show that has at its centre a young man who declares his top half is Conservative and his bottom half a Liberal, but that's not the whole story: above the waist he is fairy and immortal, below he's definitely mortal for his mother is the fairy Iolanthe who was cast out of fairyland for marrying a mortal. Now he wants to marry the lovely but underage Phyllis, a Ward of Chancery who needs the Lord Chancellor's permission which she is not going to get when all the House of Lords have their eyes on her.
In the days of single-sex education and with the enormous popularity of Gilbert and Sullivan operettas it was not unusual to find them given schoolboy productions, though I rather doubt that this story about fairies would have been an obvious choice. The Union's fairies aren't schoolboy trebles but adult and very accomplished performers and there is much more to admire here than their skill in singing in high register. They seem effortlessly to take to Mark Smith's joyful choreography, tripping and spinning almost in the audience's lap; they point the numbers with perfect timing and bring a serious sincerity to every scene.
Of course, the performers and audience are tongue-in-cheek together but this is no camp send up. It works because all the performers play as though they mean it and carry the audience with them. It is a demonstration of how much talent there is out there that another cast with this range of skills has been assembled (only four of them were in Pirates). There is no attempt to make these men into pretty girls. In fact the opposite rather. Alan Richardson, who plays love interest human Phyliss, and Christopher Finn, the ageless Iolanthe whom she takes to be competition for Strephon rather than his mother, are handsome young men but certainly not pretty. Their femininity is in their performance but against them lovelorn Scottish Strephon is cast with an actor of dark romantic good looks - but no mere matinee idol: he is also a strong performer. That is one key to why this production works so well.
Another is the invention of director and choreographer and some wild design ideas from Stewart Charlesworth that add visual and physical wit to Gilbert's humour which may be well over a century (from the days before there was a Labour Party, New or Old) but still seems apt with its proposals for entry to the House of Lords being by examination and that 'diligence, honesty and merit' should be required of lawyers.
There are some delightful visual touches in this Iolanthe: I loved the different ways in which the fairies' wings are represented and instead of a heavily robed, coroneted set of Lords we have a lot of old buffers in dressing gowns and everything from toppers to tin hats with a sprightly costume change between the two dashing through the audience. There's a brook of choreographed mirrors for Iolanthe to rise from a hockey stick that gets a variety of manifestations (one replacing swords in Raymond Tait's delightful Scottish dance as Private Willis) and the whole is given a fairy tale book framing with little boys exploring the place with torches.
Shaun McCourt handles the Lord Chancellor's patter numbers with aplomb and corseted Kris Manuel's could not be more of a Queen Fairy but every one of the company has to be on top form with this proximity and they all are. This is a delight.
At Union Theatre until 11th December 2010
Reviewer: Howard Loxton