Muhammad Ali and Me
Devised by the Ali Collective
Oval House
(2008)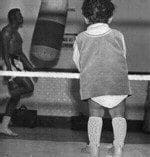 Muhammad Ali is a hero, a legend in the sporting world. Muhammad Ali and Me personalises the story of Ali and his journey to become the world's greatest boxer by drawing parallels between his life and a young girl growing up in foster care in 1970's London.
This ambitious production tells these two stories through an array of media: song, dance, sign language, dialogue and footage. Akin to a boxing match the stories dart here and there, jumping between the lives of these two very different characters.
The energy and versatility of this cast is remarkable. Mojisola Adebayo as the fighter takes on both the role of Ali and the young girl - Susan. With the punch of an arm or the turn of a head she skilfully switches between the two. The fact that she is female is neither here nor there as she embodies the spirit of Ali, portraying his arrogance and optimism. As Susan she is brave yet vulnerable, dealing with her own personal battles. Charlie Folorunsho (The Corner Man) regardless of ethnicity or gender transforms into the school yard bully, the strict father and the pious church pastor to name but a few. Jacqui Beckford (The Referee) connects the two stories as she moves about the stage signing what the characters are saying with boundless energy.
All the ingredients are there. However what is lacking is clear narrative to tie it all together. The performances cannot be faulted and yet, whist there are many great moments as it jumps all over the place, that's all they become - moments. The link between Ali and Susan is unclear; both very interesting and moving stories but the relationship between them is uncertain. Yes they are both clearly fighters, struggling with their identities. Born Cassius Clay, Muhammad Ali changed his name in order to claim his identity, contrasting with Susan who was stripped of her Christian name Mojisola, thus stripping her of her identity. However this is not enough and at times the blurring of the two stories is confusing.
Muhammad Ali and Me certainly provides a new take on storytelling and is ambitious in its approach. However a "rumble in the jungle" it is not, as the aim of this production is lost amongst the various story telling techniques and you're left wondering what it was they wanted to achieve.
Reviewer: Rachel Sheridan