Malindadzimu
Mufaro Makubika
Hampstead Theatre
–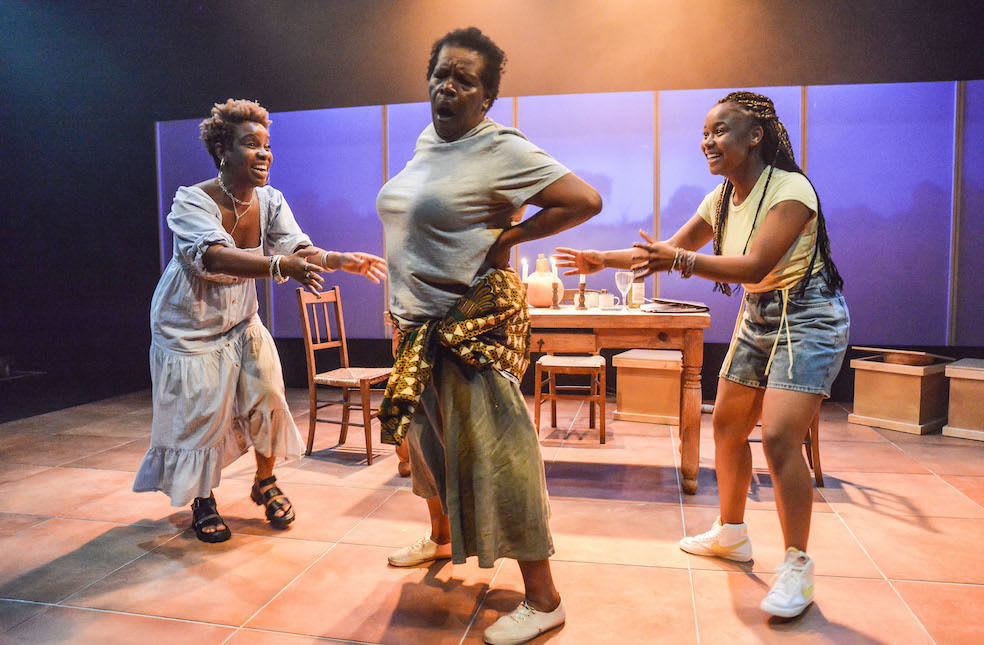 Malindadzimu is the name of one of the Matobo Hills in Zimbabwe. It means "the burial place of the deified ancestors" and has an important place for the Matabele people and in the Mwari religion. In 2003, it was named a UNESCO World Heritage Site. It is also where Cecil John Rhodes is buried and that is at the root of this drama which centres on a sixteen-year-old black schoolgirl from Nottingham called Hope.
Hope, played by Kudzai Mangombe making a spirited professional debut, is in a hospital room where Tendai Humphrey Sitima's gentle-voiced doctor is trying to discover what brought her there. Was she trying to commit suicide? She can't explain but she's probably been on antidepressants. Hearing strange voices has made her feel worse so she took more pills; that's why he had to pump out her stomach.
Hope doesn't want the medics to tell her mother what happened and it is clear when she arrives that there's an uneasy relationship between the girl and her mother, Faith (Shyko Amos), who deals with it by uprooting them and taking Hope back to her own homeland: Zimbabwe.
Without any previous experience, Faith has decided to become a farmer and has bought white Mr Smith's farm from him. It's not long before things start to go wrong (Smith hadn't made a success of it either), especially when the rains don't come.
Meanwhile, Hope has made friends with household employee Gogo, a manipulative but warm-hearted old lady played with great humour by Natasha Williams. She is settling into living in Africa but now she sees things as well as hearing voices, the spirit of an ancestor who wants her to carry on his battle (Sifiso Mazibuko as Lobengula). Trying to be helpful, Gogo introduces Faith to a Spirit Medium. Tendai Humphrey Sitima makes him genuinely caring and not really a charlatan despite exploiting people's beliefs to make money ("I only take US dollars" he insists).
Makubika doesn't really explore the central mother-daughter relationship; what his characters represent takes precedence. He can sometimes handle cultural difference with gentle humour but exploits ethnic ceremony to provide a dramatic explosion and a contrived resolution. That solves Faith's agricultural problem but doesn't really address the continuing commemoration of those like Rhodes who killed and exploited others for their own gain and the extension of Empire.
Ironically, Faith left Zimbabwe to go as a Rhodes scholar to Oxford. She had to give that up, though we aren't told why—this seems a strange gap. Malindadzimu voices the strong feelings about past history that must have inspired this play, but seems to abort what felt like a cry for real action.
Reviewer: Howard Loxton