Malory Towers
Adapted by Emma Rice rom the novels by Enid Blyton
Wise Children
HOME, Manchester
–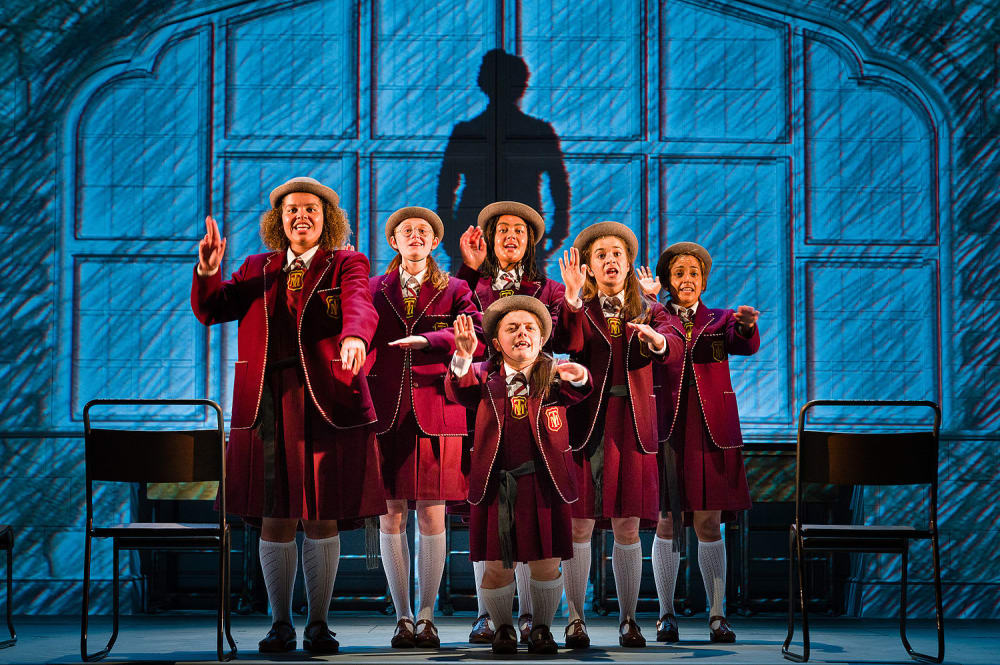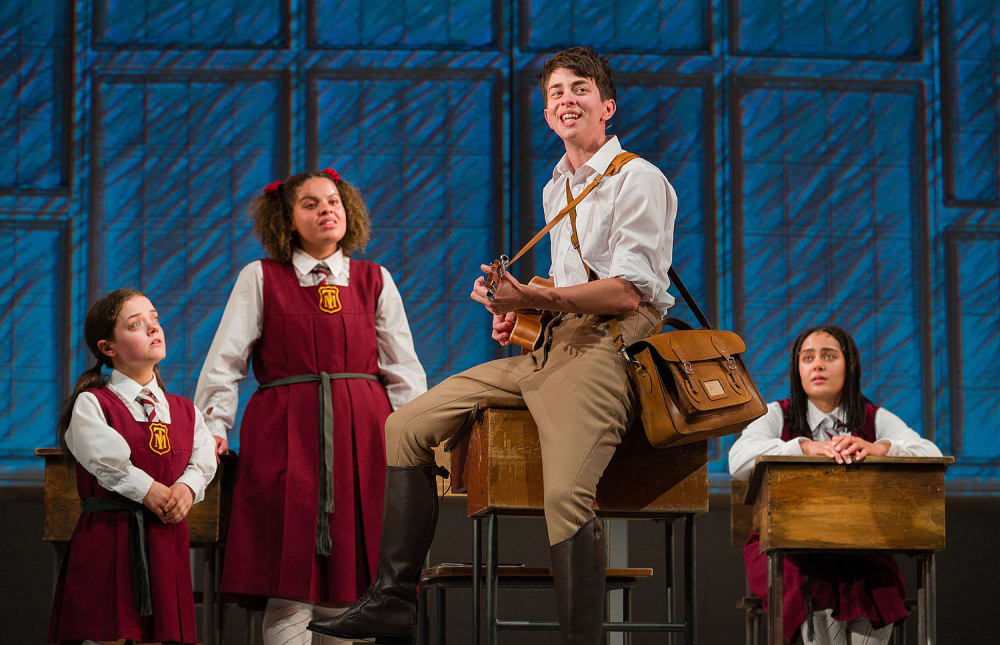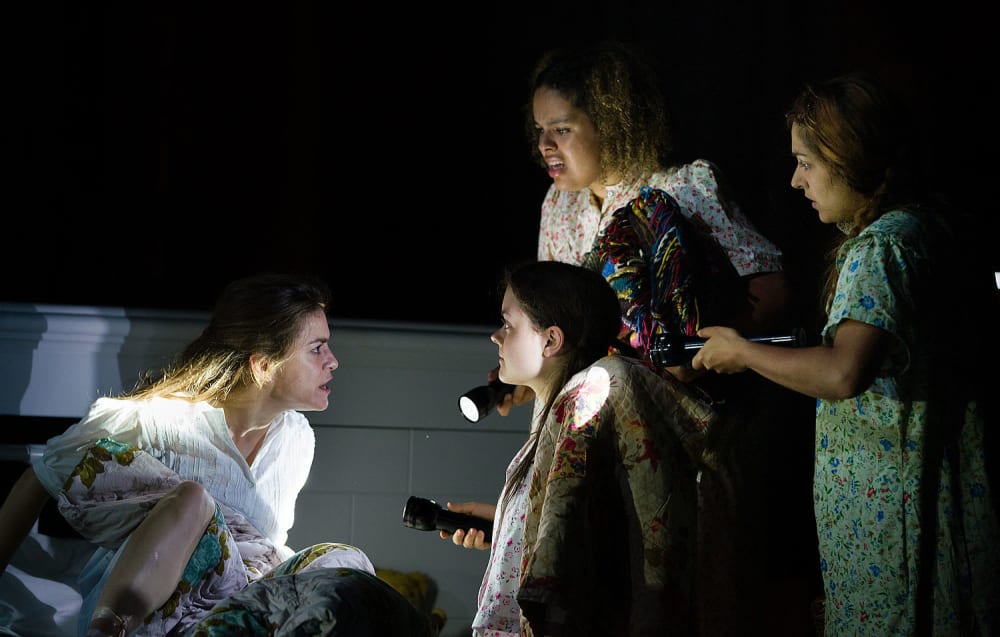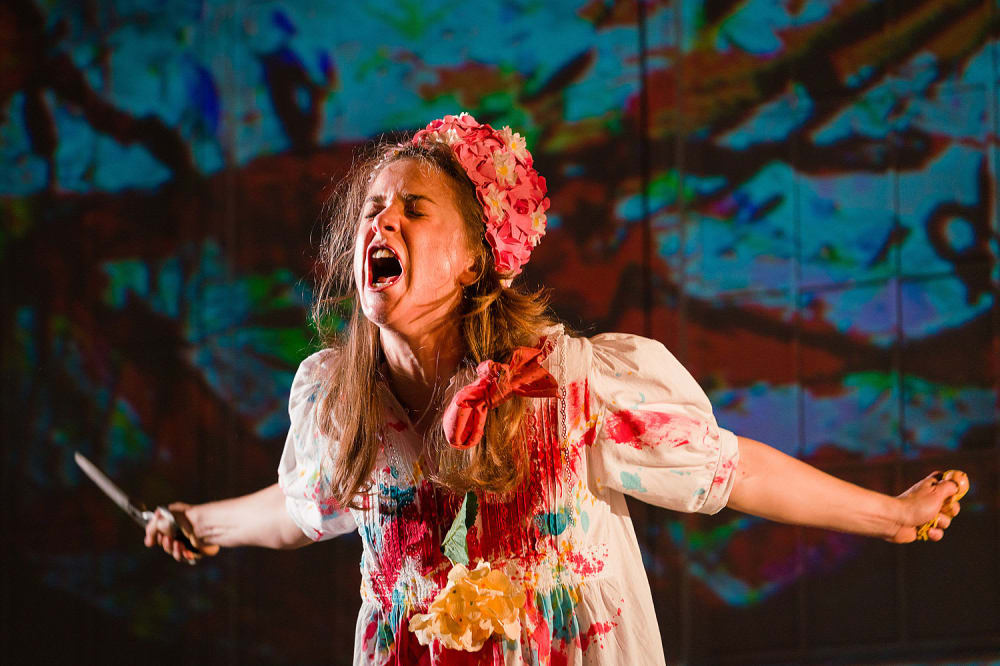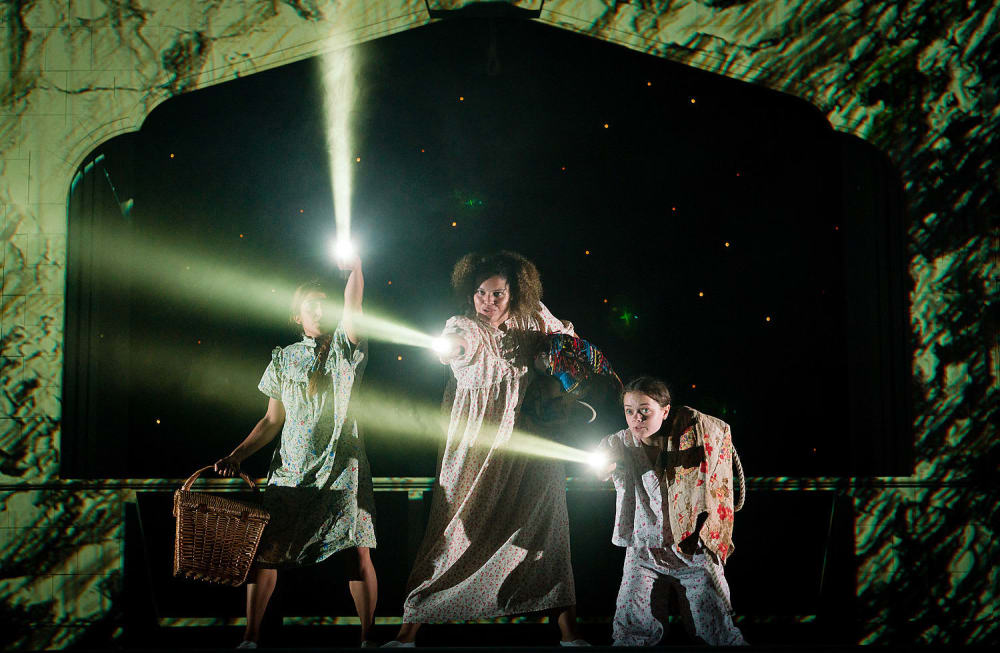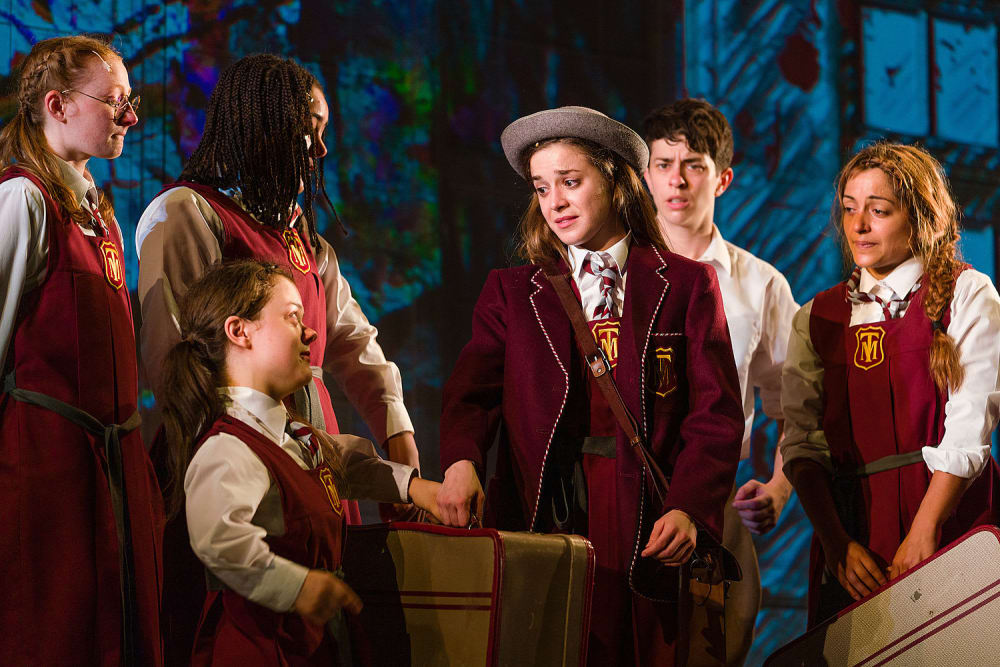 While Enid Blyton may not be considered morally appropriate to appear on a postage stamp these days, there is no question that her often strongly moralising tales have been loved by several generations of children, albeit with a few tweaks to keep up with the sensibilities of the current age.
It may therefore surprise some when Emma Rice's loving adaptation of a series of novels set in a 1940s girls' boarding school opens on a very modern-looking school corridor, with the lined-up chairs between doors marked "Head Teacher" and "Welfare Assistant" occupied by schoolgirls who look very much like a large proportion of the audience, presumably school parties, on this Manchester press night. However, this is just a frame that Rice uses to take us from the familiar into the fictional Cornish school in a Wizard of Oz-style jump into fantasy.
Rice focusses entirely on the girls themselves, who have to get themselves out of any situation without adult involvement—the only adults who feature at all are Head Teacher Miss Grayling, who appears only as an animated silhouette with the recorded voice of Sheila Hancock, and Rice's former Kneehigh colleague Mike Shepherd as the recorded voice of the station announcer.
The play begins as the new first formers are boarding the train for their new school, all except Alicia Johns (Renée Lamb)—they tend to call one another by their full names all the time—who was there last year but has been kept back a year. They are all very excited, except for snobbish Gwendoline Lacey (Rebecca Collingwood), who feels she is above the rest of them and keeps saying her father has promised to send her to finishing school in Switzerland. Each girl has her own distinct, well-drawn character trait: Mary Lou Atkinson (Rose Shalloo) is the shy one with low self-esteem; Sally Hope (Francesca Mills) is the bossy but motivational organiser; Alicia Johns is always telling terrible jokes; Darrell Rivers (Izuka Hoyle) has trouble controlling her temper; and Irene Dupont (Mirabelle Gremaud) is the slightly aloof, arty musician.
Although there were several books in the series, Rice has created a strong storyline threading through her adaptation. Gwendoline shows her colours to the audience early on, when she bullies Mary Lou but gets Darrell 'sent to Coventry' by the others as they witness her retaliation and not the original act. She is eventually found out, but her manipulative deviousness continues, resulting in a literal cliffhanger (labelled 'Cliffhanger' on the screen in case we miss it) to end the first act, but a daring and exciting rescue is initiated by late arrival the Honourable Wilhelmina Robinson (Vinnie Heaven)—or 'Bill' as she prefers to be known; she would have been known then as a 'tomboy' but having her played by a non-binary trans performer gives the character a more modern interpretation—and her horse, Thunder.
While directing the class production of A Midsummer Night's Dream, Sally takes a Freudian approach to her troublesome classmate, believing that if they could just work out why she behaves so badly she can be made a nice person, but Gwendoline, apoplectic at having the role of Titania taken from her, is out for revenge. However, the play takes a tragic turn at the end that does have a profound effect on her and results in a hopeful if rather low-key ending.
Although there are a few harsher moments, this is largely good, innocent fun where characters are admonished by the others for fairly slight moral transgressions and everyone has a moment of admitting she feels worthless so she can be reassured by her loyal friends. The script and performances stay just on the right side of parody—playing over-the-top for laughs for two hours would quickly become tiresome—where the ridiculousness of the situations of these impossibly posh and largely well-behaved teenagers is occasionally acknowledged with looks to the audience but this isn't overdone, although a couple of obvious references to modern issues are a little jarring.
This wonderful ensemble cast are totally convincing as schoolgirls and committed to both the modern and the Blyton-1940s styles and some also play instruments: Gremaud plays the harp beside her bed and Heaven accompanies on drums and guitar at different times, while Stephanie Hockley plays piano at the side of the stage throughout. Songs are a mixture of period songs—Benny Goodman's "Sing Sing Sing", Pat Ballard's "Mr Sandman" with a beautiful choral arrangement by Nigel Lilley—and original songs with music by Ian Ross and lyrics by Rice.
Onto Lez Brotherston's set of a dormitory with a versatile upper level and backdrop, Simon Baker's video design, featuring animations from Beth Carter and Stuart Mitchell, range from subtle backdrops to impressive transformations of the stage picture but are never allowed to dominate or distract from the action. As expected from Rice, this is a visually spectacular production but one that focusses on the story and the performances of a diverse and multi-talented cast.
This is another wonderfully entertaining production from Wise Children that celebrates its source but is created for a modern audience to enjoy—and it certainly isn't just for teenage girls.
Reviewer: David Chadderton