Mám
Michael Keegan-Dolan (with company)
Teaċ Daṁsa
Sadler's Wells
–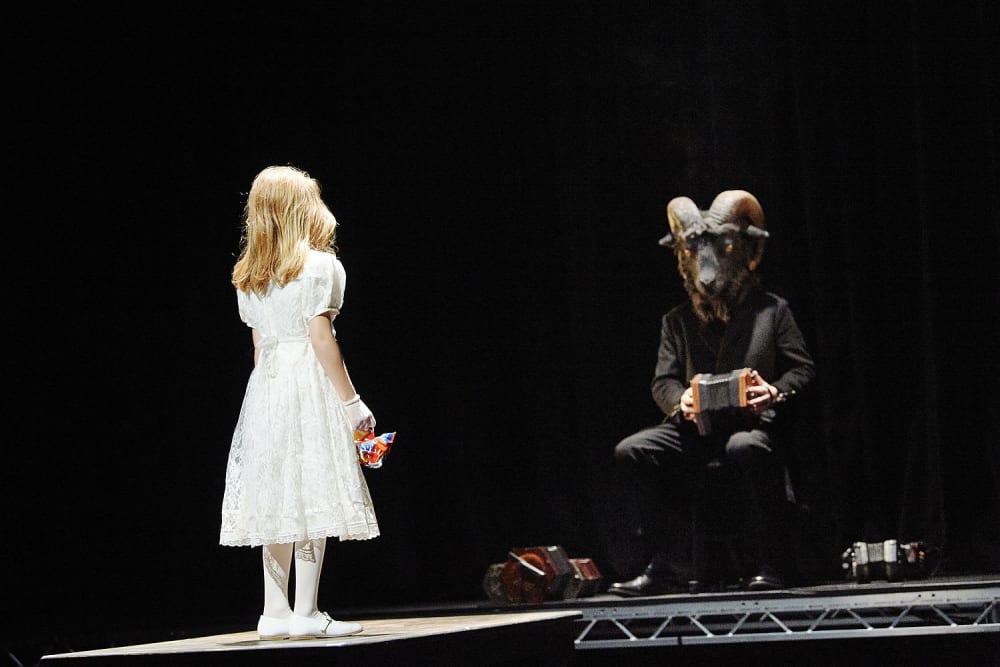 A young girl in a white party dress stands elevated on a table, eyes wide and staring, casting a ghost-like figure, frail in frame, yet unabashedly present. It could be the opening of a psycho thriller with an uneasy edginess creeping in as we are confronted by this demure vision, untainted by the black demons surrounding her. What will she witness? Why is she even there at all?
Directly opposite her is a man with a black ram as mask and then a line-up of adults seated with black paper bags covering their heads, eyes and mouth cut out as if auditioning for some Masonic sect, stamping, clicking and clapping. Musician Cormac Begley opens the concertina, squeezing the life out of the simple instrument, spurring on the dancers' rhythmic, trance-like beats that drives this surreal, expressive piece forward. The scene is set and it's equally the stuff of nightmares and lucid dreams.
Michael Keegan-Dolan builds complex and disturbing choreography that burrows deep below the surface for this latest physical theatre piece, Mám. Bodies are constantly in a state of flux. Everything is based on sensations and gestures rather than sequential storytelling. Dancers group off and come back together again, much in the form of traditional Irish dance, but the child is at the maelstrom. As a single youthful presence serenely observing the desolation and joy of her adult surroundings, she is their conscience and, it feels, their future. Perhaps the child is present to witness the imperfections of a grown world that she can learn from and improve upon.
Unlike his first piece, Swan Lake / Loch na hEala, Mám, or mountain pass, one its multiple meanings, effortlessly couples the contemporary with something more traditional whether this is rooted in an Irish dancing grid or a religious celebration. Keegan-Dolan spent two years on his home turf in Dingle Peninsula and the piece is infused with ideas to come from this landscape and community. Isolation is a theme as well as the exposed dangers associated with wilderness.
The mood is abstract. It's up to the audience to bring their own experiences to the flimsy narrative. Is it a wake or a wedding celebration, a rave, disco come céilí, a contemporary piece or cultish prayer worship? It's one and all of those things as action hurtles forward, building imagery, then detonating, like new communities shooting up out of nowhere only to be bulldozed to the ground.
Performed to live music by the Berlin collective Stargaze, brilliantly echoing the chaos in a score that moves from pure classical to folk then something discordant, Mám musicians appear on a raised platform resembling a traditional dance layout. The dancers reproduce elements of a céilí, only to be pulled apart and replaced with something more animalistic, or overtly sexual as feet stamp, arms become branches swaying or gesturing upwards as if in worship. Dancers often rock back and forth with their eyes closed, lost in their own memories or responses to the timbre of the live music, only to break the lyrical mood to scream or shout to wallow in grief or happiness. Every mode of expression is indulged to create a rampant collective hysteria, celebrating what feels like a deeply held set of secret beliefs.
In one scene, a dancer cavorts across the stage kissing all the other performers, apart from one, part-comical and part-commentary on a deeper, lonely state of being. In another, the girl opens and crunches through a packet of crisps, sharing the moment with the other dancers in a simple, familiar, childish pleasure. It's a little unnerving at times watching this vulnerable child witness something so adult in content and, when one dancer wraps her up in passionate physical embrace, it's a relief to discover that it's her mother (Rachel Poirier) and her father, the choreographer. It's not until the finale, though, that the child claims her central spot in a spinning, whirling dervish solo, then echoed by the whole cast. She is the beating heart of the piece from beginning to end.
Mám is a disturbing, questioning, playful journey that merges multiple sensations into a fire-pit of memory, loss and hope. It is a testament to the choreographer and his ability to create such heightened emotive work through the physical form. The flow of movements as dancers beat their hands and feet in unison, arms swinging upwards in worship are memorable to witness. Each and every performer brings impressive energy and stamina to the stage. This is powerful stuff that rocks, rolls, cajoles and confuses in an ever-moving, always engaging, often surprising, but monumental work.
Reviewer: Rachel Nouchi