Mamma Mia!
Music and lyrics by Benny Andersson and Bjorn Ulvaeus, book by Catherine Johnson
Judy Craymer, Richard East and Bjorn Ulvaeus for Littlestar in association with Universal, Stage Entertainment and NGM
Curve Theatre, Leicester
–

Listing details and ticket info...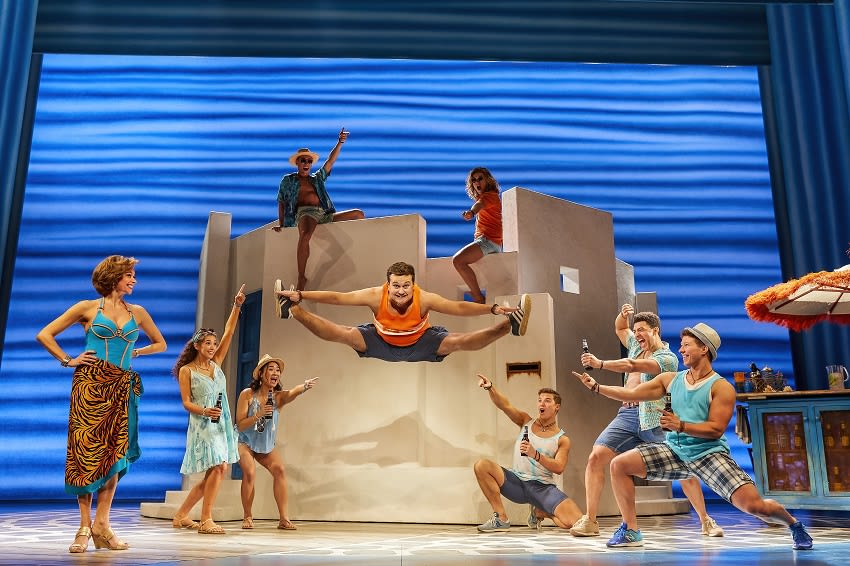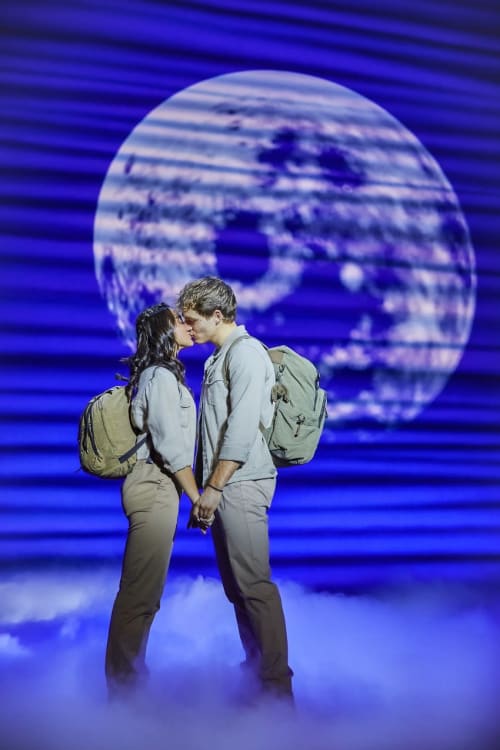 Sun, sea, singing and smiles. Not bad for entertainment and Mamma Mia! is arguably one of the best musicals to deliver it. Whilst trying to avoid the cliché "this musical needs no introduction", my guess is it probably doesn't need much of an introduction, due to the success of not only the show itself and two blockbusting films, but also the timeless wonder and appeal of ABBA.
Since its origination in the late 1990s with the coming together of Judy Cramer, Benny Andersson, Björn Ulvaeus and Richard East and the show's first performance in the West End in 1999, Mamma Mia! has been seen by over 65 million people in over 50 countries and translated into numerous languages. Catherine Johnson's book delivers a heart-warming story of love lost and found, a search for identity and family, young love and love later in life, all woven into a masterful score of over 20 ABBA songs.
There's a poignant start as the announcer refers to the day the Queen opened Curve in 2008, and we stand for the National Anthem—how many theatres and cinemas began proceedings not so long ago. This time, though, we sang for the new King.
With warnings of platform boots and lycra alongside the usual reminders about filming and phones, Howard Harrison's lighting design and Jonathan Allen's set of white-washed taverna walls transport us to the fictional Greek island of Kalokari.
For the uninitiated, bride-to-be Sophie (Jena Pandya) has grown up on Kalokari with her mum Donna (Sara Poyzer) but has never known the identity of her father. Having found Donna's old diary from her "summer of love", Sophie contacts the three possible contenders—Sam (Richard Standing), Bill (Phil Corbitt) and Harry (Daniel Crowder)—and invites them to her wedding to find her father and where she fits in the world. The day before Sophie's wedding to Sky (Toby Miles), all three potential dads turn up, much to Donna's shock, annoyance and confusion. Many ABBA songs later (their integral storytelling power is maximised well), we have the most feel-good of all feel-good conclusions. And a three-song dance-along to round things off.
There is much to enjoy in this musical—Lucy Gaiger's costumes are a vibrant mix of sunny oranges and cool Greek blues and whites. Anthony van Laast's choreography is fun and a bit saucy, and it's always a bonus to hear a live band (so, thank you for the music, Carlton Edwards and your musicians).
Three is the magic number: Sophie and her friends Ali (Jasmine Shen) and Lisa (Mariella Mazzilli), Donna and her two Dynamos Tania (Helen Anker) and Rosie (Nicky Swift), and the three men in Donna's past. These trios are superbly supported by a cast of 20 and everyone appears to be having a wonderful time together on stage.
Act 1 sets up everything nicely with "Money, Money, Money", "Mamma Mia" and sexiness all over the shop with the stag and hen dos featuring "Lay All Your Love On Me" and "Gimme Gimme Gimme!". Act 2 delivers a more emotional punch, using ABBA's more soulful numbers; Sara Poyzer knows how to tug your heartstrings, particularly her performance of "Slipping Through My Fingers" followed by "The Winner Takes It All".
ABBA songs remain popular not just because of their superlative construction and melodic power but the lyrics are so relatable and universal—all aspects of love are covered and the book accentuates this well.
For many, this is a nostalgia trip but you'll get a warm welcome to Kalokari; the whole show feels fresh, lively and doesn't take itself too seriously. A real tonic for these sombre times.
Reviewer: Sally Jack