Mamma Mia! International Tour
Judy Craymer & Catherine Johnson
Little Star in association with Universal, Stage Entertainment and NGM
Opera House, Blackpool
–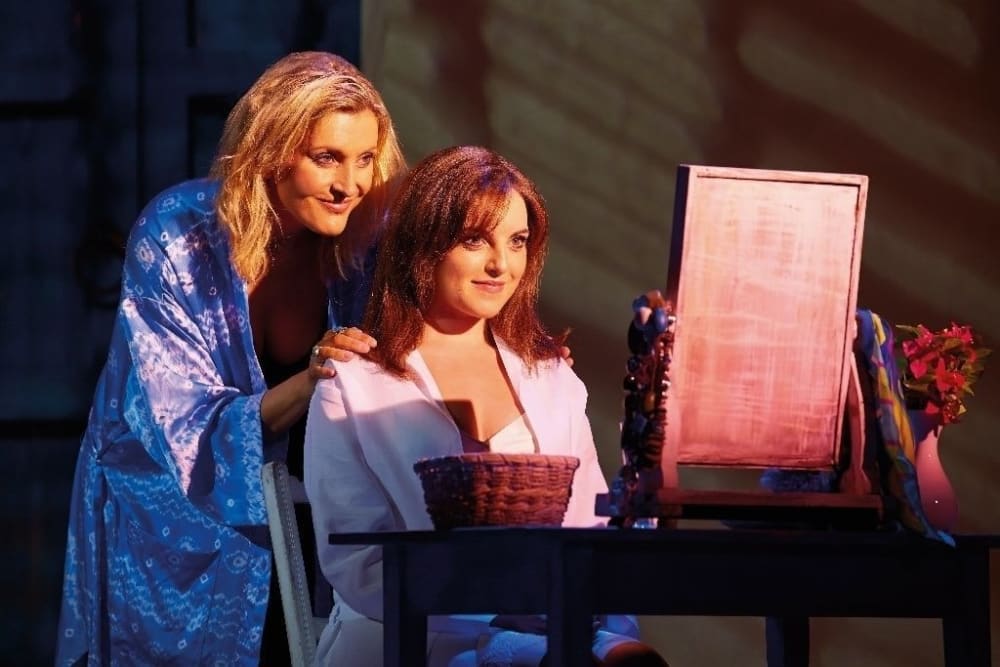 Blackpool is banking, quite literally, on this show to revive its summer season fortunes.
Seldom can a production have been freighted with such huge expectation, in a resort where season shows used to run from spring to autumn.
The 12 weeks here are as much to prove that Blackpool theatregoers still have an appetite for summertime entertainment, and tempt more such shows to follow suit.
So enter Mamma Mia, stage centre, the show whose prodigious reputation precedes it worldwide. This international tour is fresh from a five-month engagement in South Korea, and if you were looking for a show to break down barriers in North Korea, besides box office records in Blackpool, then look no further.
It is as polished a performance of the smash-hit musical as you'll find anywhere, a production fiercely loyal to Judy Craymer's brainwave vision of blending Abba's songbook into a musical theatre narrative delivered by Catherine Johnson's book.
Set on an Ionian island, where everyone's karaoke machine seems stuck on the Swedish supergroup's output, it revolves around pre-nuptial jitters, but touchingly delves into themes of identity, love, loss, loyalty and reunion.
It's still a jukebox musical when all is said and done, but one that elevates the oft-disparaged artform into a definitive template for such musical theatre entertainment.
An engaging story, fully-fleshed characters and music that comes with an emotional punch. A genuine pop opera.
Some of the subtlety of the original has fallen out somewhere in the world, so audiences now have the story's innuendo thrust in their face, rather than suggested. Even that cannot detract from a production where showstopping numbers come as standard.
Sara Poyzer, as central character Donna, pretty well now owns the role and can deliver either "Winner Takes It All" with full force, or "Slipping Through My Fingers" with a more expressive candour. Alongside her, Sue Devaney, a familiar face to northern theatre audiences, laps up the role of Rosie with a lascivious relish.
TV talent Niamh Perry is a suitably coy Sophie, but this is always an ensemble show rather than any star vehicle and the cast are all up to the task.
Reviewer: David Upton