The Man and the Donkey
Valerie Laws
Customs House, South Shields
(2011)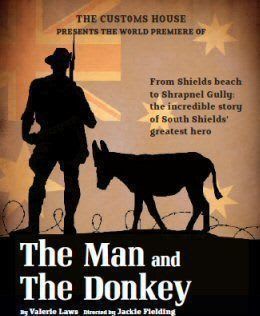 In recent years the Customs House has probably produced more new plays than any other NE venue, with the possible exception of Newcastle's Live Theatre, but it has to be said that most (although not all by any means) have been pretty conventional. However with Valerie Laws' The Man and the Donkey it has broken new ground, not only in terms of the play itself but also in its staging.
It tells the story of John Simpson Kirkpatrick, a local young man who became a hero to Australians in World War I because of the way in which, as a stetcher-bearer with his donkey Duffy, he saved many lives, carrying the wounded through the thick of the fighting in Gallipoli to safety on the beaches. Sadly he lost his own life while rescuing others and Australians still regard him as one of their great war heroes. He came from South Shields and was a most unlikely hero, an ordinary young man who did heroic deeds but was far from the ideal soldier, not so much defying miltary discipline as seeming even not to notice it was there. All he wanted to do was save his comrades.
Amazingly he is hardly known in his home town - although there is a statue to him and a pub named after him. There is an amusing moment in the play when, being told he deserved a medal, he said he would rather have a pub named after him, which got a laugh from the Shields people in the audience but went right over the heads of outsiders.
Valerie Laws has taken his story, from his origins as an eleven year old boy working with the donkeys on Shields beach to his death, and presents it more or less chronologically but with deviations into comments by military top brass (echoes here of the Haig speeches in Oh What a Lovely War) and, towards the end, a survey of the differing reactions to him across the years since in Australia and Britain.
In fact, there are bound to be comparisons made with Oh What a Lovely War but the resemblance is only superficial.
Jamie Brown plays Kirkpatrick and the rest of the cast - Russell Floyd, James Hedley, Viktoria Kay, Gary Kitching and Jacqueline Phillips - not only play all the other characters, from his mother and sister to his comrades in the Merchant Navy and the Anzacs, but create Duffy the Donkey and large faces of the top brass using helmets and brushes and other things lying around the trenches. It is, in fact, a very physical production, making great demands on the actors, but they make it look easy.
It is a true ensemble piece and the cast move from character to character and situation to situation, adopting different body languages and accents with consummate ease. Simple changes of a single item of clothing help the multitude of transformations. The cast never leave the stage which keeps the piece moving smoothly and swiftly through its 90-odd minutes, including interval. I did feel that it might have been even more effective if it had been played without that interval, but that is a minor quibble.
The set, designed by Simon Henderson, has two levels: the lower serves as South Shields beach, a trench, the Kirkpatrick home, the hold of a ship and many other locations, while the upper, a wall of sandbags topped with duckboards, is the battlefield of Gallipoli. It is superbly lit by James Henshaw who has avoided the temptation to use pools of light to create individual spaces and instead reflects the physical nature of director Jackie Fielding's production by using what is essentially dance lighting, side lighting to bring out the plasticity of the stage picture but with the clever use of birdies to ensure that Kirkpatrick's face is always clearly but subtley lit. Two basic colour washes combine to create a range of entirely appropriate effects.
It's deeply moving: a well-written piece about a fascinating topic, performed by an excellent cast under Fielding's clever direction with very high production values; without a doubt one of the best in-house productions from the Customs House for many years.
Reviewer: Peter Lathan