A Manifesto for a New City
Julia Darling
Created and performed by Northern Stage
Queen's Hall, Hexham, and touring
(2005)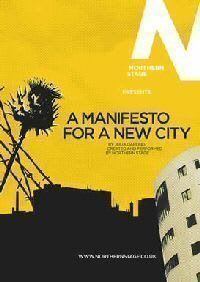 A Manifesto for a New City is billed as a musical, but anyone going along expecting Miss Saigon, Superstar or even Oklahoma! or Oliver! will be... Well, disappointed is the wrong word, for there is nothing disappointing about this piece, but they will certainly be very surprised.
After producing Homage to Catalonia, Northern Stage sent four writers off to Barcelona - by EasyJet: no luxury travel here! - to write their reactions to the city. One of them, Booker Prize nominee Julia Darling, produced the poems which were to become Manifesto - a piece which, although inspired by Barcelona, is really about Newcastle. Working alongside the Northern Stage ensemble, including composer and musical director Jim Kitson, and dramaturg Duska Radosavljevic, she developed them into the production which opened tonight at Hexham's Queen's Hall.
The stage is bare, all the wing space and back wall visible. It is lit by a couple of fluorescent lights overhead. It is full of rows of plastic chairs, typical public space seating. A blind man comes on and sits down. Gradually the rest of the cast arrive and seat themselves apart from each other; more fluorescents are switched on. The house lights remain fully up. One speaks: "I'm disgruntled," a theme taken up in speech and song by the rest of the cast.
Gradually who they are, why they are there and, most important of all, the reasons for their disgruntlement with the city are revealed. Gradually, and subtly too, the lighting changes: houselights go out; stage lighting comes up to supplement the fluorescents, taking us out of the "real" world into the world of theatre. And so is born the people's revolution, a rejection of all that Newcastle has become in the hands of the men in suits.
The lyrics are witty, often wickedly funny, and the music, mainly multi-part a capella singing, cleverly echoes the words. The characters' lives, their dislikes and fears, their hopes and desires, their longing for a city which will reflect their needs, all become clear.
After the interval the revolution has happened and the style changes. The revolution has succeeded. The men in suits, their suits cut up and sewn together differently (by themselves), now sing into microphones in true boy band style a lament for the passing of their world, with the girls as backing singers. The girls, dressed formally in white blouses, straight skirts and high heels, replace them with a girl group song warning of the dangers of believing men. And then we are back with the originators of the "friendly revolution" who tell us how their world has changed. And guess what - they're disgruntled!
It's short - less than an hour and forty minutes including interval - and packs a tremendous amount into that time. No time is wasted: there's no padding. It retains its wit and razor-sharp observation of human foibles and doesn't attempt to batter the audience into submission with repetition.
As for the performances, this is a true ensemble piece of the kind that director Alan Lyddiard has been at pains to foster throughout his tenure at Northern Stage. There are no weak links: characters are well drawn and the singing is good. This is Lyddiard's swan song (he goes off shortly to pursue a freelance career): it couldn't have ended on a better note.
And yes, the pun is intended!
"A Manifesto for a New City" tours to: New Greenham Arts (14th-16th April); Tron, Glasgow (20th-22nd April); Alnwick Playhouse (23rd April); the Customs House, South Shields (25th-27th April; Arc, Stockton (28th April) and the Sands Centre, Carlisle (30th April).
Reviewer: Peter Lathan