The Man with the Flower in His Mouth
Luigi Pirandello, adapted by Poppy Burton-Morgan
Metta Theatre
Dean and Hudson Coffee Shop, Highgate, and touring
(2011)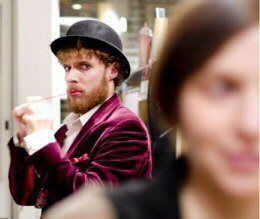 Performed as a site-specific production with the audience seated in a coffee shop which becomes the location of the play, this is a short (40 minute) duologue which Pirandello developed from a short novella La Morte Addosso (Death on Him), adapted here by its director Poppy Burton-Morgan with slight differences to match every venue on the tour..
Written in 1923 this could seem rather a period piece but the adaptation makes changes to bring it up to date, not least by changing the gender of two of the characters. A business man whom the eponymous person encounters in an all-night café becomes a woman in town for a shopping spree and theatre visit who has missed her train and a woman (who we do not meet) who is infatuated with the man now becomes a boy. However the changes need to be a little more thorough to make this version seem more plausible.
I'll accept a man who come up to town from holiday presumably to do some business, goes shopping for his wife and children, then fits in a show before missing his train back. I found myself wanting a reason for a woman doing the same, especially one who shops in places where they wrap individual parcels in ribbons that she carries them by - in fact do any London shops still do that? There remains an early twentieth-century feel; indeed the man himself looks from the past, though the toys he produces from his pocket seem very contemporary.
Making it a woman whom this stranger starts talking to in the early hours as she waits for the first morning train, certainly makes the character seem more threatened by this man who describes himself as clinging like a climbing plant to strangers, imagining what their lives are and wondering why not only the people but the buildings of Pompeii did not leave the place before Vesuvius erupted.
Samuel Collings plays him with a quirky, gentle charm, which remains even as his conversation becomes more odd and intimate, turning towards the idea of his death. His flower is not a floral bloom but the blossoming of a carcinoma from which he is dying. Although it is identified as an epithelioma (which now would almost certainly be treatable), one immediately thinks of AIDS and making the infatuated person who wants to kiss him and share his infection male reinforces this. While the woman is there killing time for him time is running out.
Liana Weafer plays the woman, a listener more than a talker, and in such close proximity to the audience that is a challenge to carry off but she maintains concentration splendidly.
Around 45 minutes long The Man with the Flower in His Mouth is a relatively slight piece, but these performances hold the attention. It is one of those enigmatic encounters that sometimes happen when you talk with strangers, you are held wondering what this is all about and only when you discover the man's situation does it begin to resonate more deeply.
Burton-Morgan shapes her production well but, played on a bright Spring evening with the audience at the rear of the shop looking out to the street, the actors, Collings especially. are playing against the light. Although that was obviously dictated by the shape of the venue actors have to work much harder but it is a challenge they take well in their stride.
At Dean & Hudson, Highgate until 1st May then: Combibos Cafe, Oxford 3rd - 7th May, Boston Tea Party, Bristol 9th + 10th May, Boston Tea Party, Salisbury 11th + 12th May, Boston Tea Party, Bath 13th + 14th May, Boston Tea Party, Worcester,16th + 17th May, Boston Tea Party, Honiton 18th May, Boston Tea Party, Exeter 19th + 20th, Boston Tea Party, Barnstaple 21st + 22nd May, Theatre Royal, Bury St Edmunds 24th - 26th May, Dean & Hudson, London 27th - 29th May 2011.
Reviewer: Howard Loxton