A Man of No Importance
Book by Terrence McNally, Music by Stephen Flaherty, Lyrics by Lynn Ahrens
A Regan De Wynter Production in association with The Arts Theatre
Arts Theatre, London
(2010)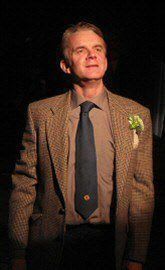 Today the West End seems awash with so called 'movicals': Dirty Dancing, Legally Blonde, Billy Elliot, Priscilla Queen of the Desert...the list goes on. Now A Man Of No Importance joins the long line of screen to stage shows in Theatreland for a limited run at the Arts Theatre.
Bus Conductor Alfie Byrne (Paul Clarkson) loves the theatre. He lives, eats and breathes it. Luckily so does the Irish community he lives in. Fresh from the 'success' of staging The Importance of Being Earnest he dares to mount Wilde's tragedy Salome. Even praying to St.Imelda can't help their fated project. When the church discovers what's to be performed in their little hall, they take away his rehearsal venue and the play is cancelled. But this show is much more than a simple story about a man's love for theatre; this is show about a man and the love that dare not speak its name.
Alfie has a deep dark secret; he is in love with the driver of his bus Robbie. It doesn't help that his sister has been trying to fix him up with a girl for years, she 'doesn't even care if the girl isn't virginal'. In such a religious community, where merely swearing is a sin, Alfie must live his life in silence, unable to come to terms with who he really is. The only thing helping him through his tough times are the wise and beautiful words of Oscar Wilde, who also appears as his mentor in his dreams.
After failing to confess what he sees as his sin to Father Kenny, Alfie soon realises that no-one is as saintly as they seem. Mrs.Patrick is having an affair with Robbie and new-to-the-town Lily is expecting a child out of wedlock. Alfie's real sin is keeping his sexuality secret and not learning to accept who he really is; as one character says 'You can't help who you fall in love with.' After his friends discover the truth about his sexuality, Alfie soon realises that good friends stand by you no matter what. Baldy even humorously points out that 'Being a terrible director is worse than being a terrible sinner.'
This is a musical full of heart with charming music and a wonderful ensemble; each character a fully rounded persona and a joy to watch. The St.Imelda Players are representative of any amateur theatre group up and down the country and Mr Carney, played by Paul Monaghan, represents a modern Nick Bottom. We have all encountered a Mrs Curtin, who wants to choreograph the dance of the seven veils in the genre of tap, not forgetting those Mrs Graces who want the show to revolve around them, even though they have small parts. This is what makes the piece so enjoyable; witnessing the character's passion for the arts, even though they are no Oliviers or Denches, whilst demonstrating that theatre really does bring communities together.
Stephen Flaherty's score has a distinct Irish charm to it with witty lyrics courtesy of Lynn Ahrens. 'Going Up' is a wonderfully comic take on a showstopper, with sausages in place of feather bowers as butcher Mr.Carney and the rest of the troupe sing of their excitement of staging another show. 'The Streets Of Dublin' is another highlight and gives Patrick Kelliher as Robbie a chance to show off his superb vocal talent.
The book is even wittier, yet most touching at times and coupled with strong direction from Ben De Wynter great empathy for the characters is created. A simple set depicting the old church hall plays host to this glorious piece of theatre.
The play ends on an extremely positive note. A new rehearsal venue has been found and things can start anew, with Alfie now happy with who he is. As he states: 'Life is something I can't rehearse', it has many twists and turns, but friendship and community is one of its great joys, as is attending productions such as this.
Playing until 27th February 2010
Sandra Giorgetti reviewed this production at the Union Theatre, Southwark
Reviewer: Simon Sladen