Manon Lescaut
Giacomo Puccini, Libretto by Domenico Oliva, Giuilo Ricordi, Luigi Illica and Marco Praga, after the novel L'listoire du chevalier des Grieux et de Manon Lescaut by the Abbé Prévost
Met Opera on Demand
Metropolitan Opera House, New York
From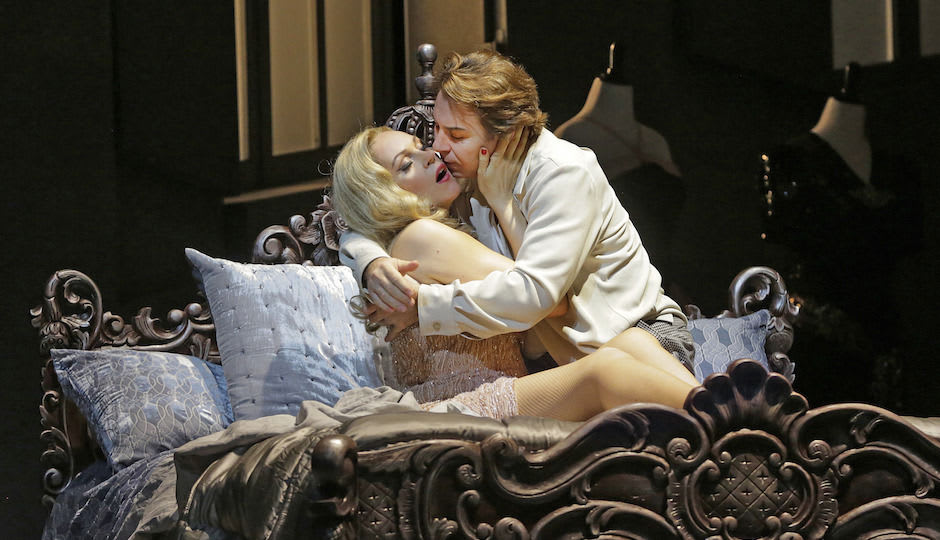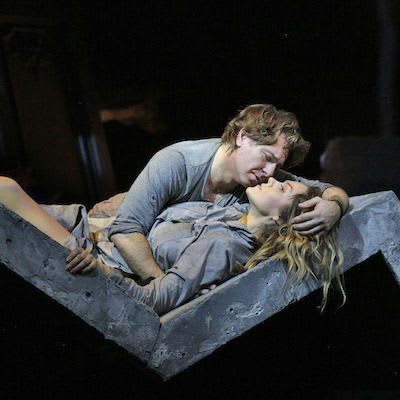 Jules Massenet's Manon, which had premièred in 1884, was still extremely popular in Paris and so Puccini was taking a big risk when he decided to turn Antoine Francois Prevost's novel into an opera. Was he worried about accusations of plagiarism? If he was, it didn't stop him from producing his own lush score. Puccini's Manon Lescaut premiered in Turin in 1893.
Richard Eyre's production for the Met in 2016 was conducted by Fabio Luisi and the cast included Kristine Opolais as Manon, Roberto Alagna as De Grieux, Massimo Cavalletti as Lescaut and Brindley Sherratt as Geronte.
The story is updated and set it Occupied France in 1941. When we first see Manon, she is an 18-year-old innocent from the country and looking very schoolgirly. She is meant to be going to a convent so she is thrilled to elope to Paris with Des Grieux, a young student, instead. When we see her next, three months later, she has ditched Des Grieux and is a kept woman, swanning around in a negligee and Kristine Opolais is showing her beautiful legs.
Diamonds are a girl's best friend and Manon always puts luxury first. She may sing very loudly about how much she misses kissing Des Grieux's burning lips, but, when a choice has to be made, she prefers jewellery, furs and cash to love. Geronte, her elderly lover who is very rich indeed, lavishes presents on her and pays for a band of singers to play specially for her. He also pays for her to have dancing lessons. Richard Eyre directs this interlude for farce. The band is so very boring and the gigolo dance teacher takes absurd sexual liberties.
Des Grieux re-enters her life and the first thing they do is to sing and the second thing they do is jump into bed and get caught in flagrante delicto by Geronte, who takes his revenge by reporting her to the police, saying she is a prostitute, and getting her deported to America.
The chemistry between Kristine Opolais and Roberto Alagna is totally believable. Alanga, powerful and lyrical, has a big reaction (Opolais is very sexy) and Puccini, who loves big passionate emotions, indulges them both.
Manon is arrested by German soldiers. I thought for a minute she might end up in Auschwitz. In Prevost's novel she ends up in the swamps of Louisiana (a French colony). Here she ends up having to clamber over an awful expressionistic set which is meant to represent a wasteland.
Nobody is going to shed tears for Manon; at least not in the same way as they copiously shed tears for Mimi and Cio-Cio-San. Operagoers are far more likely to shed tears for Des Grieux, who has gone through so much agony, crying and pleading with the captain of the ship to take him too, even if it means he has to be a deckhand, so that he can be with Manon in exile. Alanga looks an absolute wreck. It is De Grieux who is the tragic figure. It is he who will get all the sympathy.
So which opera do I prefer? Puccini's or Massenet's. You choose. I like them both.
There are a number of ways of tapping into this opera and others at will. The Met Opera On Demand service offers annual ($149.99) and monthly ($14.99) subscriptions as well as a one-off payment ($4.99) for those who have limited time or only want to watch the occasional opera.
Reviewer: Robert Tanitch