Manor
Moira Buffini
National Theatre
Lyttelton Theatre
–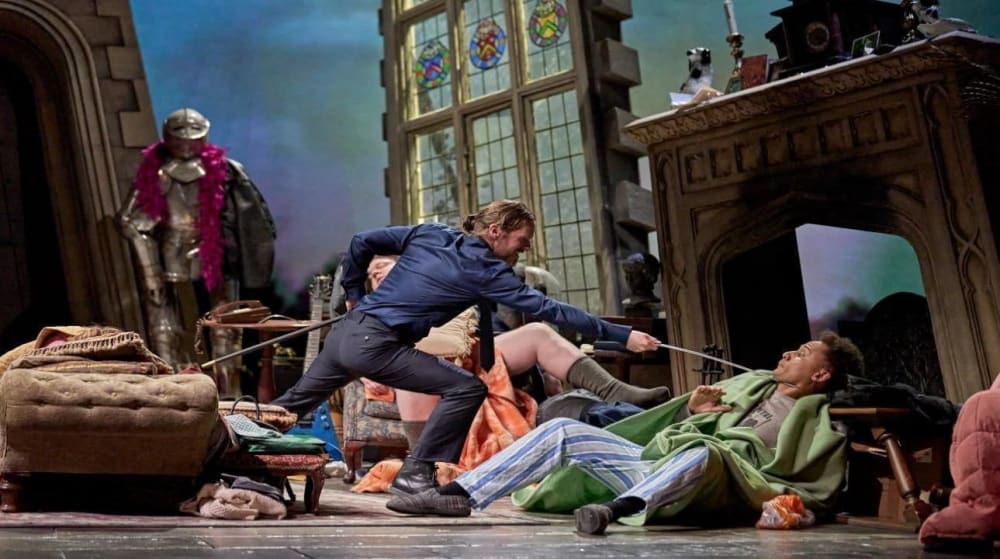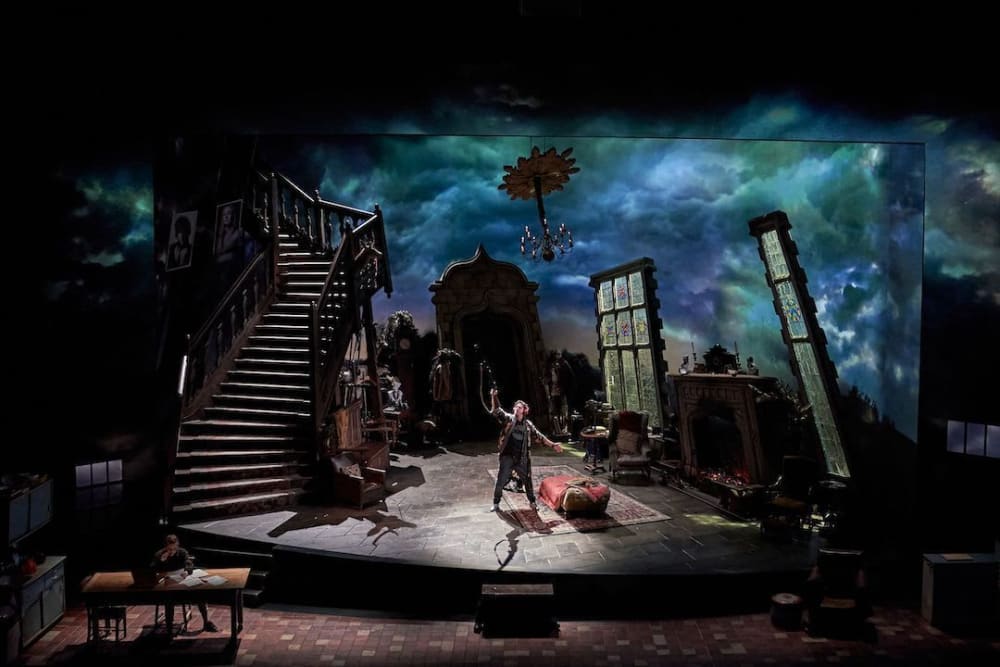 Moira Buffini's new play attempts to present the state of the nation seen (literally) by flashes of lightning. Inside the ancestral home of Lady Diana (Nancy Carroll), her ageing rocker husband Pete (Owen McDonnell), drunk and high on magic mushrooms, is taking pot shots at her ornaments with a rifle. They seem to leave the running of things to their daughter Isis (Liadán Dunlea). Outside, a violent storm is raging, flood waters rising.
Manor ranges across a gamut of genres from political satire to melodrama, ending in disaster drama with its sometimes overlapping scenes as fragmented as Lez Brotherston's gorgeous set which presents the crumbling restoration mansion through isolated elements: a grand staircase climbing skywards, a slanting fireplace and stained glass windows at odd angles in exaggerated perspective. Across the cyclorama, Nina Dunn's video design provides the glowering sky and scudding clouds and aids a stunning climax.
After what appears to be a murder, Buffini borrows that much-used situation of a group of strangers seeking shelter from the dark and stormy night in a house cut off from communication. There's right-wing extremist Ted Farrier (Shaun Evans) and his young sidekick Anton (Peter Bray) who have abandoned their car in a lane that's turned into a river; they return to it to rescue Ted's girlfriend Ruth (Amy Forrest), who is blind and seems to be the brains behind his terrorist planning. A nurse (Michele Austin) turns up—she says to call her Ripley—with daughter Dora (Shaniqua Okwok). They've had to flee the cottage where they had planned a weekend in the country. Local vicar Rev Fiske (David Hargreaves) arrives too, and another local, Perry (Edward Judge), who recently lost his shelf-stocking job at Sainsbury's.
While Ted Farrier has some success in wooing Perry to his neo-facist ideas, it is difficult to believe that Diana is drawn to a man with as little sexual charisma as Evans gives him, but he is totally believable as a lying opportunist. It is Ruth, soon identified as ruthless, who is the ideologue whom the socialist vicar, public-spirited Ripley, Dora and Isis recognise as the greater enemy.
While Manor touches on a whole range of current ills, including racism, social inequalities, abusive behaviour, homophobia and climate change, it doesn't say anything new about them and, while David Hargreaves and Michele Austin give Fiske and Ripley the warmth of real people, most seem token characters in a contrived drama. Fiona Buffini, directing scenes spread out across this large set, doesn't achieve the intensity of real confrontation. This is an artificial world in which such brief moments as a lesbian kiss and the vicar's declaration of his sexuality carry as much weight as a lengthy rant.
Others in the audience found Manor much funnier than I did, and perhaps more dramatic too, but I certainly share their admiration for its final excitement.
Reviewer: Howard Loxton