Mansfield Park
Jane Austen, adapted by Tim Luscombe
Theatre Royal Bury St Edmunds
The Haymarket, Basingstoke
–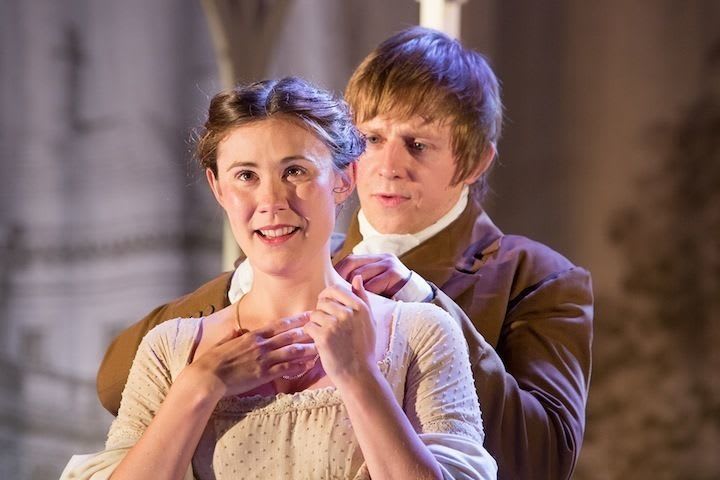 Tim Luscombe has sensitively adapted Jane Austen's Mansfield Park in this charming production by The Theatre Royal Bury St Edmunds. It must have been a daunting task to make cuts to the book whilst still maintaining its integrity but Luscombe has achieved this admirably.
The themes of social class, romantic intrigue and domestic passion are as relevant today as when they were first penned by Austin over two hundred years ago. The demands on the excellent eight-strong cast to play the major characters are immense and most have to double up or, in one case, triple up their roles, which takes some time to come to terms with but you have to admire the quick costume and character changes.
Ffion Jolly is splendid as the spirited heroine Fanny Price from the impoverished branch of the family who is taken in by her affluent aunt Mrs Norris (Karen Ascoe) and the domineering Sir Thomas Bertam, the affable Richard Heap, whose fortunes were acquired from his sugar plantations in Jamaica.
The stately Mansfield Park is quite a cultural shock to Fanny but she finds romance in the handsome cleric Edmund, the impressive Pete Ashmore, who has eyes for the charming, vivacious Mary Crawford (Kristin Atherton). Samuel Collings perfectly captures Mary's scheming unscrupulous brother Henry.
Tensions within the family abound with elder daughter Maria, a feisty performance by Leonie Spilsbury, being wooed by the rich, blundering Mr Rushworth, excellently portrayed by Geoff Arnold in his stage debut who also plays the eldest son Tom and Fanny's sailor brother William Price.
It would not be spoiling the plot to reveal that the story twists and turns but has a happy ending with Fanny marrying her beau.
There is strong ensemble playing from this talented cast with director Colin Blumenau squeezing every ounce of humour from Luscombe's rich script and setting a cracking pace throughout.
Kit Surrey's stylish, simple set of stepped wooden pagodas and hanging period black and white cloths depicting Victorian scenes works superbly well, and special mention must go to the sumptuous costumes and impressive choreography by Lee Crowley. This is an enchanting insight into the world of Jane Austen, a sheer delight.
Reviewer: Robin Strapp