Shakespeare - the Man from Stratford
Jonathan Bate
Riverside Studios and touring
(2010)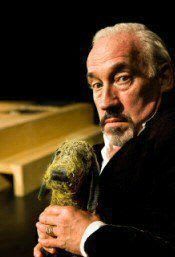 This solo performance is not so much a play as a lecture, but a marvellous lecture backed by the skills of theatre and of an accomplished actor. Shakespeare scholar Bate, (no mean lecturer himself: earlier this year I caught him giving the Society for Theatre Research annual Wickham Lecture when he spoke about his work on Ted Hughes and Shakespeare) has used the life cycle of the Ages of Man speech from As You Like It as the framework for a survey of the bard's own life.
It is liberally interwoven with extracts from the plays and poems plus a little bit of Kyd and Marlowe either to describe a similar stage in Shakespeare's life or to mark that point in his output. There is even the rare chance to hear the speech he contributed to Sir Thomas More, a play that was banned by the Elizabethan censor though it was put on at Nottingham 40 odd years ago and by the RSC in 2005.
We get to hear Callow give snatches of roles from Launce to Lear, including Falstaff, Henry V and a Chorus from that play, Prospero, Hamlet, Old Hamlet's ghost, Polonius, Macbeth, Juliet as well as Romeo, Rosalind and Puck, some lubricious lines from Venus and Adonis and a couple of sonnets. There are some very original performances among them but what I found most intriguing was a section when, using borrowed lines to present his Welsh schoolmaster, we learn how what the 'whining schoolboy' was taught of grammar and rhetoric fuelled his writing - including a Latin tag that roughly translates as 'all the world's a stage'!
Of course, it a tour de force on the part of Callow but director Tom Cairns adds visual interest and atmospheric support from Jeremy Herbert's design, The set incorporates subtle soft-focus video segments, reveal panels and even a fire that bursts into flame to add to the atmosphere which is backed up by strong lighting effects by David Howe and sound and music backing by Ben and Max Ringham. It may be a lecture but it is also very much a piece of theatre.
Callow has a ball, and the audience love it. I can see this being a show that has a life far beyond its present tour.
At Riverside Studios until 12th September 2010 then 14th September Grand Opera House, York; 15th - 18th September New Theatre, Cardiff; 21st - 25th September Theatre Royal, Glasgow; 28th September - 2nd October Churchill Theatre, Bromley.
Reviewer: Howard Loxton