Ma Rainey's Black Bottom
August Wilson
Royal Exchange Theatre, Manchester
(2006)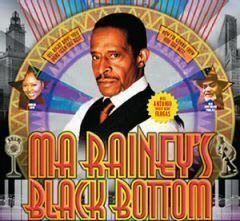 August Wilson's first Broadway hit - it won the New York Drama Critics' Circle award for best play in 1984 - was based on the real-life, larger-than-life character of Ma Rainey, one of the earliest big stars of blues music.
The play is set in a recording studio in Chicago in 1927. The musicians all arrive to rehearse for a recording session, but the notoriously temperamental star hasn't turned up and her manager Irvin has to smooth things over with record producer Sturdyvant - just as he has to with the policeman when Ma finally does show up with her nephew Sylvester and her 'girl' Dussie Mae after a minor car accident and an alleged assault of a taxi driver. Things don't get any easier when she does arrive, as she insists on going back to her old arrangements of her songs and forces them to use her stuttering nephew to do the voice-over introduction to the song that gives the play its title, but will not sing a note until someone goes to the deli to get her a Coke.
Much of the play is delivered at quite a slow pace, but the pace feels absolutely right for the material and characters and draws you into their world, carefully and subtly (at least at first) introducing little details about living and working as a black person in 1920s America. The play basically consists of a group of people in a room talking, but director Jacob Murray has judged the tempo well enough to keep it interesting.
This is helped by a superb cast. The band is led by Cutler on trombone with Slow Drag on double bass and Toledo on piano, played with a great deal of heart and dignity by Wyllie Longmore, Ram John Holder and Antonio Fargas respectively. They consistently bicker like old men do - slowly and without physical violence, although often quite malicious, but always with an underlying affection. The fourth member is Levee, in an intense performance by Kobna Holdbrook-Smith, who is is ambitious and volatile - which proves to be a dangerous combination - and believes himself to be a real artist destined for better things than the world-weary old musicians who just 'play the song'.
Into this relatively calm atmosphere bursts Johnnie Fiori as title character Ma Rainey like a hurricane. Fiori has got both the look and the playing of the character just right, and she more than lives up to the build-up given to her by the other characters when she eventually appears. She brings with her the stuttering Sylvester, played superbly by Daniel Poyser, who appears to have borrowed Mr Toad's motoring outfit and her 'girl', the simpering and attractive Dussie Mae, played by Kay Bridgeman.
The 'white folks' are represented by Patrick Driver as Ma's constantly flustered manager Irvin, David Fleeshman as the impatient and, it is later implied, manipulative record producer Sturdyvant and David Corden as the harassed policeman.
This charming and often very funny production deals with some difficult issues of race in 1920s America that are now different but still very much alive. The shocking end seems to come very suddenly, like the endings of some of Miller's modern tragedies, but it is a believable if not inevitable result of the events that have gone before. As the person who feels frustration at his oppression explodes into violence directed at someone other than his oppressor, there has got to be a metaphor for something larger that I will leave it to A Level students to untangle. However, apart from all the politics and violence, I think that from now on whenever I hear someone counting into a song I will smile as I hear in my head Wyllie Longmore as Cutler slowly chanting 'A-one, a-two, and you know what to do...'
Running until 25th November 2006
Reviewer: David Chadderton